Kibly is an easy to set up review and feedback manager.
With Kibly you will collect 5 times more opinions, comments and sales using its innovative tools, you can make any configuration in 3 minutes and you will have 100% "No-Touch" automated.
Kibly certainly automates the happiness of the Amazon customer and with happy customers, you can surely expect more. It is no secret to anyone that in e-commerce, most of the benefit is achieved in the backend. For this reason, Kibly is developed as a Backend Review, comments and sales generator, which will be the "Engine" for your Amazon business.
Kibly features
Follow-up with direct mail
You can use SendPost to follow up automatically with your client using a beautifully designed and totally personalized postcard, delivered directly to your door.
Achieve a more lasting connection
Since you make your Amazon customers a long-term asset for your business. With this tool you will be allowed to serve ads from your previous clients for their Amazon products on social media platforms such as FaceBook and Instagram.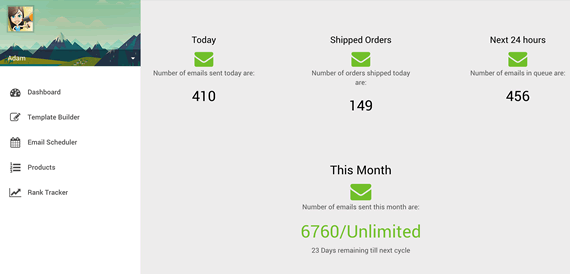 Launching products the easiest way
Kibly is a 100% hands-free automation software so you can autopilot your product launchings.
Communication
You will be able to send friendly and personalized updates so that customers know exactly what is happening with their order before they have the opportunity to ask.
Optimum delivery
When your order arrives, this app will notify your customers and make sure they can contact you in case there is a problem.
Follow up
It will allow you to offer your customers more value than ever. You will generate more reviews, more sales and more money in your pocket.
Reorder
Each customer can place orders from his store again and again and whenever he wants.
Pricing
Kibly has 6 different plans for the different product features:
SEND POST ™
Price Range: $0.50-$1.00/postcard
KIBLY CONNECT ™
Price Range: $0.08-$0.16/record
AUTOMATED EMAIL FOLLOW-UP
Price Range: $0.08-0.50/email
LINK SHORTENER
Price Range: FREE w/account
REVIEW & FEEDBACK TRACKING
Price Range: $1/tracked product/month
FEEDBACK ASSISTANT
Price Range: FREE w/account
Trial
It has a free trial with credit card required
Kibly review
The Kibly templates are 100% plug-and-play and don´t need a customization since each one is customized with dynamic "short codes" for each order and it has been proven that they work like crazy even for 7-digit Amazon companies.
Once you connect your Amazon account to Kibly, it only remains to schedule your emails. You can use the "1-click programmer" to immediately implement the pre-loaded and customized templates along with our proven tracking time.
The 14 dynamic "short codes" will allow you to customize each email that is sent and everything will be automatically. You can use short codes for your client's name, the product review link, the customer service link, the package tracking link, among other things.
Video Review
Our score
Alternatives to Kibly