SellerCloud is an innovative order and inventory management solution created in 2010 that will allow you to simplify your operations and expand to more channels, seamlessly control your inventory, catalog, purchasing, and fulfillment.
It's the only software you need to grow your e-commerce business effectively and efficiently. Because it has been working with a broad demographic of merchants for over a decade, it has created a robust and flexible set of tools that can easily adapt to all needs and help achieve the goals of any e-commerce business.
Sellercloud features
Catalog Tool
This tool has easy channel management for omnichannel merchants. You will no longer need to re-enter product information for each channel individually, as it provides a central database for all your product information, including descriptions, images, prices, and countless other details.
With the catalog function, you can manage your multi-channel listings in one place, expand your reach with the extensive list of integrated channels (without having to leave Sellercloud), retrieve the product information from various sources by importing information from various channel listings and supplier feeds and create product variations.
Also, with the central database, you will not need to re-enter product images for each channel. You can easily manage and transfer items between garbage cans and warehouses, automatically list multiple items in a kit, link component inventories, and track profit and loss and item cost. Account for all component sales (individual and as part of a kit) with predictive purchasing reports.
The catalog tool also features a shadow listings feature that allows you to assign multiple product profiles to a single product (allowing you to list the same product in different ways and different categories while keeping your inventory synchronized), variation products that will help you take control of all variations of your products (those that share common characteristics with minor variations can be published in one list while keeping their SKUs separate) and the product alias feature that will allow you to find products easily by adding multiple aliases to each product (forget about endless searches in your catalog).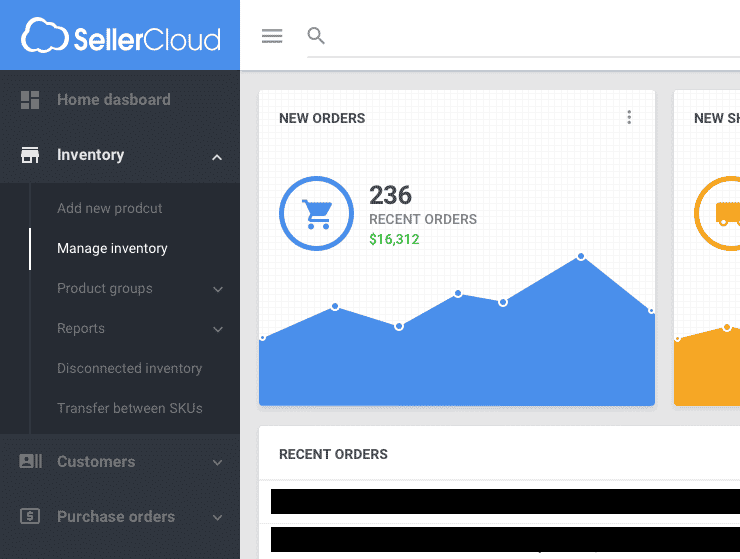 Inventory Tool
With this feature you will be able to know what you have, eliminating overselling and maintaining accurate inventory availability across multiple channels. SellerCloud's proprietary inventory management technology will help you keep track of what you have and where you have it.
Some of it's features include: Cloud synchronization, multi-warehouse execution, inventory tracking from receiving to shipping, predictive purchasing, updating inventory from vendor feeds, reserving inventory for specific offers and channels, product replacement, and eliminating overselling.
SellerCloud's low inventory alerts make it simple and convenient to reorder directly from your supplier without having to leave the platform. Product availability quantities are automatically updated across all channels. If you have inventory in multiple warehouses, Sellercloud can assign inventory to orders based on predefined criteria, such as region, shipping method, order value, or other specific attributes.
You no longer need to update your stock manually. Sellercloud automatically reserves availability when an order is first created and reduces it from physical inventory upon shipment. Sellercloud's dynamic warehouse management system can track inventory regardless of its status: in transit, not for sale, etc. You can even reserve inventory for specific campaigns or backorders.
WMS tool
That optimizes the workflow. SellerCloud is designed with accuracy in mind for your entire operation. Your system supports and optimizes your team's workflow every step of the way. With Sellercloud's own Skustack warehouse management application, you can seamlessly receive orders, pick orders, assemble orders, and even process returns in inventory.
With this tool, you can know exactly what you have and where you have it even as it moves in and out of your warehouse. Sellercloud makes it easy for your team to receive new inventory and immediately put it up for sale. Without wasting time, you and your team can handle many more orders and work to expand your business.
Manage every step of your operation (from order receiving to picking, order assembly, and even returns), increase employee productivity (by assigning different employees to different sections of the warehouse), optimize order picking (by splitting picklists by region and container to further optimize your operation), track inventory as it moves, know what you have and where (by scanning containers and running audit reports to determine if there are discrepancies, and receive RMAs that allow you to easily process returns and receive them back into inventory.
Purchasing Tool
This will allow you to save time, eliminate overselling, create your purchase orders directly and free your team from having to constantly check stock availability.
Sellercloud can be configured to generate a purchase order and automatically email it to your supplier when your inventory levels run low. Upon receipt of your merchandise, the system will automatically update your available inventory.
With smart alerts, you can predict your purchasing needs based on your past sales. No more overselling. No more late order shipments. You know what and when to order.
Manage purchase orders, track, manage and create purchase orders efficiently, track product cost, stay ahead with predictive purchasing, know what and how much to order based on your sales history, track serial numbers to know where each product is at any given time (link an item's serial number to the related order and customer), receive alerts when you are low on stock so you never overbuy or oversell again, and link a purchase order to a sales order by managing vendor orders and customer orders easily and conveniently.
Omnichannel tool
With which you can reach more customers and manage multiple channels from a centralized platform. Expand your online presence by publishing listings on more channels with over 40 channel integrations and get maximum exposure for your catalog with a central engine to manage all your listings.
SellerCloud catalog product pages are designed to cover all details and specifications. When you sell an item, SellerCloud assigns it to the sales order, and inventory decreases across all channels minimizing the risk of overselling and eliminating the need to manually update availability amounts in each store or channel.
With SellerCloud you can publish your products on multiple channels without switching channels, integrate all leading channels creating a single point of entry to all the fulfillment channels and daily deal sites you use, synchronize inventory across all channels automatically updating your inventory, fully integrate with Amazon Logistics to fulfill expected order volume over a range of days, sell internationally with multi-lingual and multi-currency support, and integrate with shopping carts (Magento, Shopify, BigCommerce and many more).
Ordering Tool
With which you can manage customer orders from multiple channels and fulfill and manage orders from all channels with a centralized platform. SellerCloud helps you manage every step of your order process. Your orders are automatically downloaded from all sales channels and can be easily managed and fulfilled from a single interface. Shipment confirmation, including tracking, is automatically sent to the appropriate channel. It can also be sent directly to the buyer by e-mail.
Order returns are handled entirely through Sellercloud, including return shipping labels, refunds, and exchanges. Once the returned merchandise is received, inventory can be returned to stock for sale or processed for return to the vendor.
Manage all channel sales from a single interface, automatically import orders, automatically update shipping and tracking, automatically generate order emails, manage refunds for any channel, track profit and loss by order, launch orders in chronological order, scan serialized item serial numbers before shipment, and ensure accuracy and prevent fraud when customers return serialized items.
Shipping Tool
This will allow you to save money and ship faster and more efficiently. Managing your order fulfillment from start to finish, picking, checking, and packing your orders, and printing your shipping labels has never been easier. SellerCloud is integrated with all major carriers.
The Sellercloud shipping application is a standalone desktop application, which means your shipping department doesn't have to access the central Sellercloud account to do its job right.
Reduce shipping costs and fulfillment latency through intuitive carrier selection based on predefined rules. Automatically configure how an order is processed based on delivery zone, order commitment date, order value, and many other unique data points.
Ship directly from Sellercloud, manage all your orders and shipments from a single interface, integrate with all major carriers and consolidators, scan all items before shipment and ensure all items are picked, packed, and shipped correctly, automate and simplify your operation with shipping rules based on order status, automatically split multi-item orders into separate portions for faster and more efficient fulfillment, bundle multiple items into a kit without attempting to pre-pack kits within your warehouse.
Reporting Dashboard
Get customized and pre-built reports at your fingertips. Sellercloud's reporting module gives you better insight into your business. It allows you to have centralized access to all your data, from item costs to sales, commissions, shipping rates, and more. Automated reports can be scheduled to run at specific times and emailed to specific users. You can also prepare custom reports on demand.
SellerCloud has a wide range of reports that allow you to track sales and product performance. Monitor your margins, trends, and performance KPIs to make informed strategic decisions for your business. Know your best-selling products and get detailed reports on sales performance by product.
Review sales performance with information on how your products are performing across all channels, track profit and loss for each order by identifying your bottom line based on revenue, costs, and expenses incurred per order, review shipping costs, and know exactly how much you spend on fulfillment, track returns by knowing your refund totals per company or order.
In addition, track tax collections, review accounts receivable aging details by getting reports on accounts receivable aging per order for all or specific customers and track non-order transactions, learn about inbound shipping rates and Amazon Logistics subscription rates.
Accounting Tool
This allows you to keep track of your financials in a simplified way. Maintain accurate financial information with SellerCloud reporting, its integration with QuickBooks allows you to easily export and analyze your valuable financial data. Measure your operational overhead with accurate cash flow tracking. You can even strategize and prepare for the future to avoid surprises in the long run.
With this feature, you will have QuickBooks integration for accounts payable and accounts receivable, cost of goods sold allowing you to make strategic decisions based on detailed reporting and reconciliation of channel settlement reports to account for fees, commissions, and taxes related to orders by channel.
Web service API
That will allow you to optimize your workflow by creating seamless integrations between Sellercloud and your other solutions. These give you easy access to your data so that it can be analyzed and used for strategic or operational benefits.
SellerCloud has developed 3 different APIs to help streamline your workflow.  Depending on your business needs, you can use SOAP, REST, or GraphQL. All APIs easily integrate with various third-party applications: shipping and receiving software, accounting programs, and image editing tools.
SOAP: Use thousands of API endpoints to handle a variety of operations.
REST: Use this very simple API for the most common integration scenarios.
GraphQL: Execute highly specific custom queries based on your specific needs. GraphQL is by far the most flexible of the Sellercloud APIs.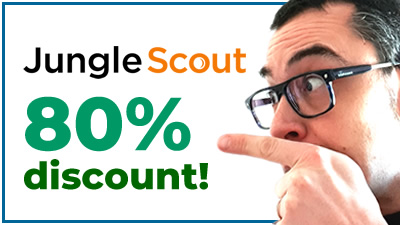 SellerCloud pricing
SellerCloud pricing is simple and transparent, these are based on your company's order volume. You have flexible options to suit any budget.
Standard orders
Base price: between 1 – 5,000 orders > 0.25 USD
Between 5,001 – 10,000 orders > USD 0.20
Between 10,001 – 30,000 orders > 0.15 USD
Between 30,001 – 60,000 orders > $ 0.10
Between 60,001 – 120,000 orders > $ 0.05 USD
All additional 120,001+ orders > $ 0.02 USD
Amazon Logistics Orders
Base price: between 1 – 5,000 orders > $ 0.10
Between 5,001 – 10,000 orders > $ 0.05 USD
Between 10,001 – 30,000 orders > $ 0.04 USD
Between 30,001 – 60,000 orders > $ 0.03 USD
60,001 – 120,000 orders > $0.02 USD
All additional orders: 120,001+ > 0.01 USD
SellerCloud reviews
Sellercloud is the reliable, centralized e-commerce tool your team needs. Its mission is to help customers exceed growth targets year after year. So you can be confident that this software will open doors you thought impossible for your company.
Already, many companies have seen massive growth since implementing SellerCloud, and are now able to work more efficiently than ever before. SellerCloud has made managing pricing, inventory, photos, and content more manageable. In addition, these companies are now able to meet higher production demands without a substantial increase in human resource overhead.
What are the benefits?
One of the most significant is the willingness and ability to customize the platform. Also, the construction of customized invoices facilitates accurate order fulfillment. Sellercloud has many integrations and features that make it invaluable and ironically it is very affordable, it is a very robust and complex platform that I would highly recommend to a company that handles many online SKUs and orders from different sources.
What is the downside?
As with using any new tool, there is a learning curve to go through so that the GUI (which is the "unfavorable" point this tool has) can be used without much effort. Once you get the hang of it, you will be able to navigate the software quickly and efficiently. The effort is well worth it!
Our score
Number of features

Pricing

Learning curve

User friendly
Comments Rating
( reviews)
Alternatives to SellerCloud
Here you can find the top SellerClouds alternatives
I work as an independent eCommerce and Amazon consultant.
Clients
Estrella Damm, Intersport, Bella Aurora, Lladró, Textura Interiors, Nice Things Palomas, Castañer, Due-Home and many other clients.
Lecturer & Teacher
I teach and have been a speaker at: Meet Magento, Prestashop, Prestashop Day, SEMRush, Cambra de Comerç Barcelona, ​​ClinicSEO, Ecommbeers, Ecommbrunch, Ecommercetour.com, Ecommfest, EOI, ESIC-ICEMD, Foxize, Generalitat de Catalunya, Inesdi, Quondos and The Valley. In addition, I have done in-company trainings for brands such as Orange and Adidas.
Writer
I collaborate writing articles for Helium 10 blog, Shopify, SEMRush, La Vanguardia, eCommerce-news.es, Marketing4ecommerce...
Partner
Helium 10, Jungle Scout, Avask, Sellzone, Helium 10 Seller Solutions Hub Partner
Social
LinkedIn, Twitter, Wikipedia, Youtube, Quora, ISNI 0000000513224289, About Jordi Ordonez
Disclaimer: This is a promoted post by the advertiser / we are affiliated with the software