If you are an Amazon Seller you need to know that there are a bunch of Chrome Extensions that can help you in a daily basis.
Wether you need to product research, calculate your FBA costs, find new keywords for your listings, optimize the listings, track your competitors prices or find profitable products for Online Arbitrage, here's a list of useful free Chrome Extensions for Amazon Sellers.
Helium 10 Chrome Extension
To me, this is the best extension and, probably, the only one you will need to fulfill every single step of the selling on Amazon game. And it works for Walmart as well.
Helium 10's extension has several features:
X Ray: a feature that analyses a product, a category or a keyword search pulling data such as Sales, Revenue, Review average, pricing, fulfillment type…
Demand Analyzer: analyses if the product has demand on the marketplace
Alibaba's Supplier Finder: find suppliers for a certain product directly on the extension
Sales estimator: estimate how many sales and revenue has a particular product or keyword
Profit calculator: a complete Amazon FBA calculator
Review Insights: check the reviews on a product, filter and download them
ASIN Grabber: download all the ASIN numbers for a search or category
Inventory levels: check the inventory levels of a certain product
Donwload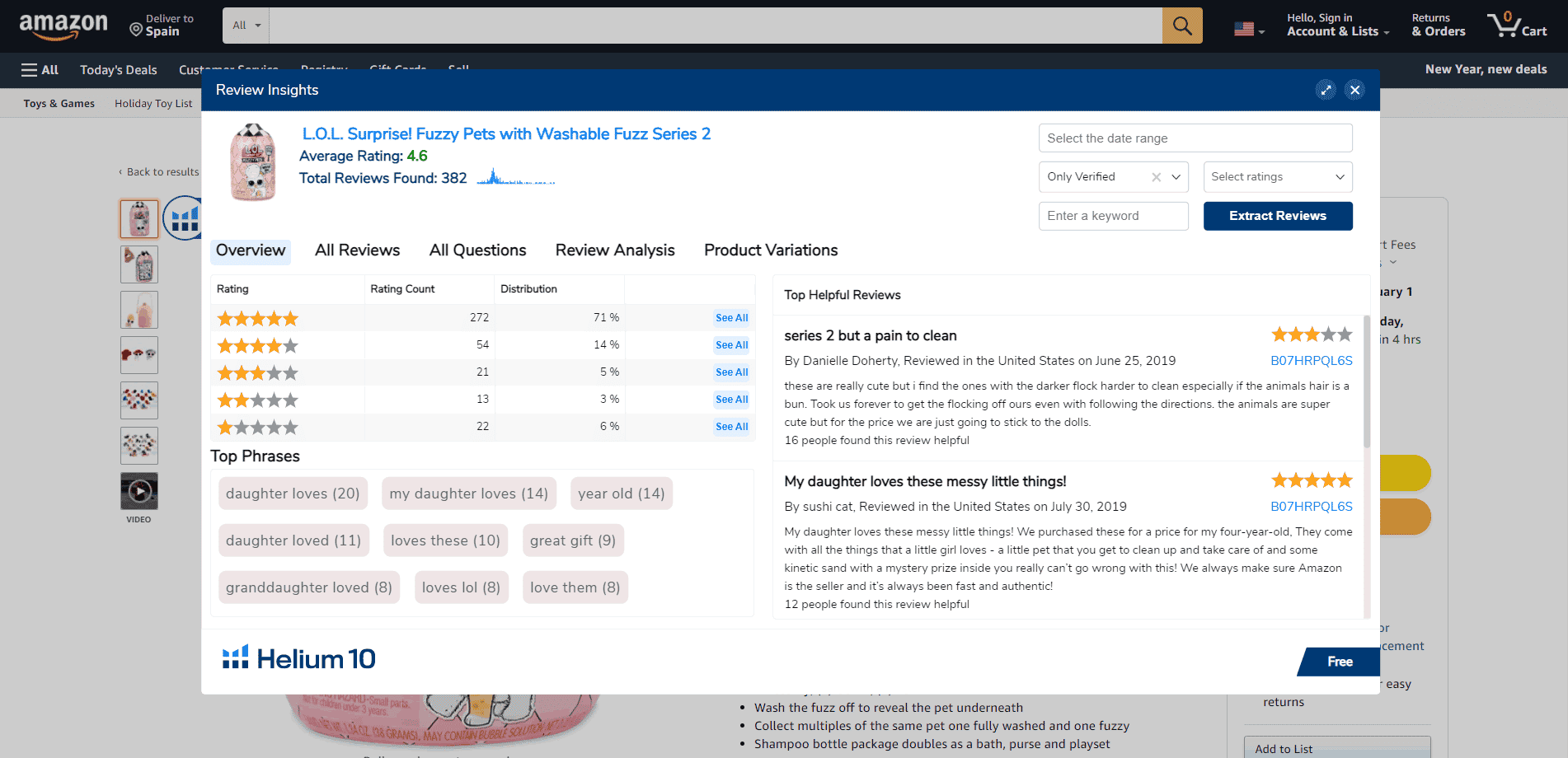 CamelCamelCamel chrome extension
Another must if you are tracking competitor's prices on Amazon. The Camelizer or Camelcamelcamel's chrome extension will track, for free, every ASIN on Amazon accross the worldwide marketplaces.
Besides that, you can configure automatic real time email alerts once there is a variation on the price.
Download
Jungle Scout Chrome Extension
Another all-in-one Chrome Extension that keeps on helping Amazon Sellers. The Jungle Scout Chrome Extension will show data for products directly while browsing Amazon:
Best Seller Rank
Historical sales
Price changes
Opportunity Score for the product and the niche
Listing quality score
It also includes more features:
Free Amazon FBA calculator
ROI calculator
Keyword volume and competition checker
Keyword cloud (related keywords)
Filters and CSV downloads
Donwload
Keepa chrome extension
Another Chrome extension that is an absolutely must, especially of you are an Amazon Seller or you are into Retail / Online arbitrage.
Keepa is one of the most used price tracking tools, includes data such as:
Price History charts for 2 billion Amazon products
Price Drop alerts
Availability Alerts
Compare international Amazon prices
Track international Amazon prices
Daily Deals
Recent price drops
Wishlist Importer
Works on Amazon USA, UK, DE, JP, FR, CA, IT, ES, IN and MX
Keepa used to be free but it's now $25 a month which is NOTHING compared to the value you get.
Download
BuyBotPro
One of the best Chrome Extensions for Retail Arbitrage and Online Arbitrage. Just check the insane amount of data you can check:
automated deal analysis
automated buy decisions
roi & profit checker
bsr checker
private label checker
hazmat checker
eligibility checker
suggested purchase quantity
amazon fees breakdown
buy sheet automation
VAT calculator
custom criteria
estimated sales
keepa graph information
profit margin auto-calculator
sales estimator
buy bot pro score 'reasons'
competition analysis
variation feature
full data analysis charts
I know what you're thinking! "Wow, this is amazing for a free app!". No, this one is not free. But it's great anyway.
Download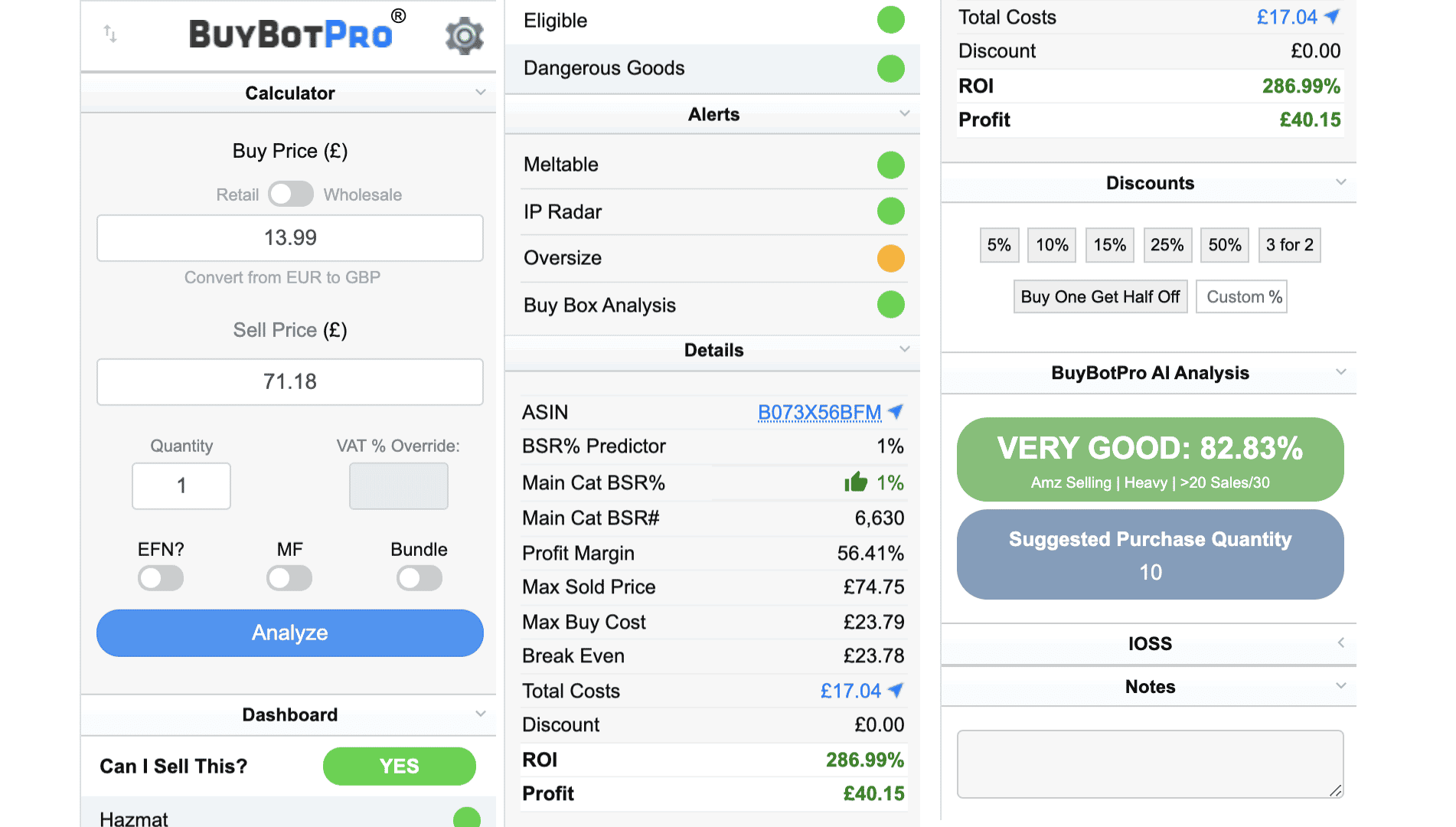 AMZScout
Chrome Extension
One of the most complete Chrome Extensions, as it shows tons of data and it's pretty accurate.
Aka Amazon Product Finder, shows data directly on the Extension while browsing Amazon:
Niche scoring and opportunity
Product scoring and opportunity
Supplier finder
Keyword research
Keyword exporter
Product Sales
Est. Monthly Revenue
Lowest Seller Price
Amazon FBA calculator
Listing analysis
Best Seller Rank analyzer
Number of reviews and it's average
And more
Donwload
SellerApp chrome extension
Another complete extension giving tons of data and free features
Product Overview
Sales potential
Best Seller Rank
Keywords tracker (for your ASINs or competitors)
Keyword profitability
Listing quality checker
Pricing alerts
Listing alerts
Ratings and review alerts
Free FBA fee calculator
Buy Box analysis
Keyword research
Keyword profitability
Trend and historical data
Product sourcing directly from Amazon to Alibaba
Download
Viral Launch chrome extension
It's been outdated for quite a while but it's still useful.
Shows market analysis and insights such as:
Monthly Revenue
Price Fluctuations
Review Rates
Historical Sales Trends
Page 1 Rank Suggestions
Download
ScanPower
A simple app, yet useful, to check the hidden information on a product.
Includes:
Product weight
BSR
Category
ASIN
Manufacturer's suggested retail price
Price tracking (Keepa's data)
Size Tier
Number of offers on the listing
…
Download
Oaxray chrome extension
Oaxray іѕ an Amazon Chrome brоwѕer extension  for Online Arbitrage, one of the most useful I've got to say. It's for free but you need to sign-up for a paid plan on the tool's site.
Include A LOT of info:
Online Arbitrage Sourcing: profitable products or not, ROI, sales rank, net payout…
Clearance Sourcing: checks clearance sections on 21 marketplaces and ecommerce sites
Find items with no sellers on Amazon
Merchant Fulfilled items that are an opportunity
Find Amazon to Amazon Flips
Retail Arbitrage products that can be bought online or in the brick and mortar
Alerts on sites like Slickdeals to find profitable items or bargains
Dropshiping Opportunities
Price matching tracker
Find products not yet sold on Amazon
And almost 20 more features!
Download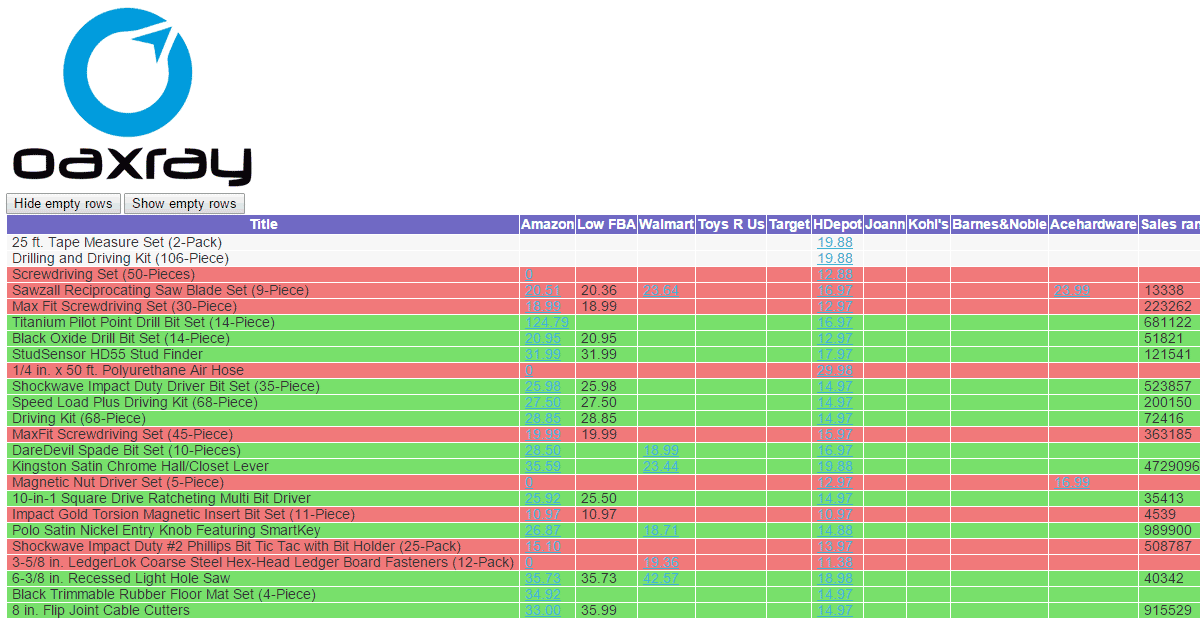 Revseller chrome extension
An easy app for arbitrage, yet it's only working in the US and Canada.
Includes:
On-Page, Real-Time Calculator including buying price, selling price and every fee you can find on Amazon
ROI calculator
Profit calculator
Number of FBA and MFN Sellers on a listing
Download
AMZPecty chrome extension
Another paid Extension including some data you can find on free extensions:
Obtaining the estimated total quantity of sales for a product
Shows the available quantity of all offers
Show the total Price + Shipping
Shows the minimum, maximum and average price
Displays the universal product code
Show customer feedback and rating
Displays the seller's rating
Download data (CSV / Excel)
Calculate FBA profit
Instant Product Notes
Inspect inventory levels of store products
Download
DS Amazon Quick View chrome extension
DS Amazon Quick View is an easy free chrome extension that works for Amazon USA and shows info on the ASIN:
AMAZON BSR
Sellers information
Full product details
Download
AMZ Seller Browser chrome extension
Another simple and free extension to help you find profitable products. Shows info on products:
BSR
Rank history from camelcamelcamel
Price history from camelcamelcamel
Other products from this brand
Shows if Amazon is already sell this products in Amazon Retail
Shows how many FBA sellers sell this product
Only works for Amazon US and UK
Download
AMZBase chrome extension
The last one! A simple extension to help you find profitable products on Amazon.
Get the ASIN number for a product
Get the title description of the listing
Find historical prices
Source the products using Alibaba
Check the listing information on other retailing websites
Free FBA calculator
Keyword research
Download
Conclusion
Here are some of the most important Chrome Extensions you can find on Amazon, both paid and free. Did you found the list useful? Let us know if your Chrome Extension is not on the list so we can add it!
Cover Photo by Austin Distel on Unsplash