We continue with our tool comparisons and, this time, we focus on those we use to perform Amazon product researches. Advanced software that allows you to discover what is the next item you should add to your listing with certain guarantees of success.
Obviously, Amazon is not going to tell you this natively (just a few data bits if you have access to Brand Analytics reports), for that you need other solutions that are able to track the different marketplaces and, based on criteria such as price, sales volume, level of competition, BSR, trends, out of stocks or the fees associated with its marketing, offer us a list of interesting alternatives.
It is true that we usually refer to these tools as product research tools, but with a sufficiently broad vision, what we can obtain are complete niches that we can fill with different ASINs related to each other thematically or by similar search intentions. In this way we can draw a more solid strategy in the medium and long term.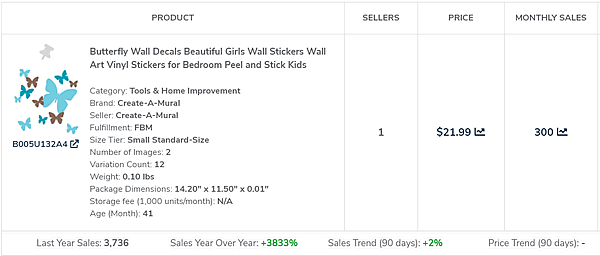 What to sell on Amazon?
Although it may seem a bit strange, many people are clear that they want to start doing business with this platform, but not so much with what product.
This is probably due to Amazon FBA's own business model which, in some way, drinks from sources such as dropshipping. In the end, they only need the product from the sellers because all the logistics management, storage, shipping, collections… is assumed by them in exchange for a certain fee.
In this case anyone can get good numbers on Amazon with a fairly controlled risk by not having to make heavy investments. In reality it is not even necessary to have production capacity as long as you find the right products that generate a sufficient margin.
To do so, they must have some key characteristics:
Minimum cost of storage: the more contained the dimensions of your products are, the less you will pay for storage.
High turnover: you are interested in products with a lot of output so that they do not remain occupying the warehouse shelves (and generating costs) for too long.
High margins: the more profit you can make on each sale, the more profitable it will obviously be.
Limited competition: trying to enter a very saturated niche is really hard, no matter how good your product is. Find balanced opportunities.
Easy shipping: you need to keep in mind when researching your product that it should be easy to handle and deliver (and if possible with little return). This always drives up costs.
5 best tools for product research on Amazon
One of the most outstanding all-in-ones when it comes to Amazon tools is Helium 10, and it deservedly deserves it.
It is especially complete when compared to other competitors. It has practically a sub-tool for every function and, of course, also for product research.
Get the coupon
Helium 10 Black Box has one of the best and most intuitive product search engines. We can search using keywords, competitors via ASIN, niches through its categories… simple to use but very powerful.
Like Jungle Scout, Helium 10 has its own browser extension, in this case it is called Xray. As you can guess what it does is to dissect Amazon in real time by pulling out all the relevant information to evaluate whether or not to invest in a product (inventory levels, competitors for the Buy Box, ranking of sellers and even a profit calculator). This data is often pulled from Helium 10's own scrap bots and from Keepa.
By using Black Box, you can perform product searches by:
Products
Keywords
Competitors
Niche
Product Targeting (using ASINs)
As you can see on the screenshot below, you have LOTS of filters and sorting options.
You can also save filters, export data, create lists, pin products for later…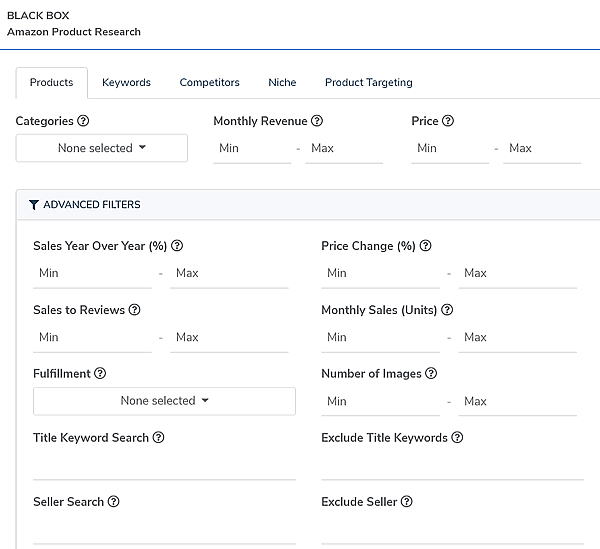 If we are honest, the first position is really disputed between Jungle Scout and Helium 10, so much so that they could be perfectly interchangeable because both are a real marvel for those who are looking for products to sell. Learn more about one tool vs the other on our post "Helium 10 vs Jungle Scout".
Jungle Scout presents a really deep analysis of the products with the most important variables:
price
level of demand
calculation of fees
ROI percentage
…and so on up to 14 KPIs to make your decision
It also has a Chrome extension that allows you to perform the research directly while browsing Amazon in a fully integrated way and in real time.

One of the things I love about JS is that it has their own niche scores, filtering presets and suggestions, so it's easier for you to identify a winning niche.
In third place on the podium we find Seller App. It has many interesting features in addition to product search, but it is in this that we can say that it stands out the most.
Like some of the other products reviewed in this comparison, it uses a type of reverse ASIN search. It searches using ASIN codes and generates a report that we can interact with by filtering according to multiple criteria.
Interesting is also the function of automatically recommending products. Thanks to this we can find opportunities that we would have overlooked.
Market intelligence applied to Amazon, that is what Viral Launch promises (and delivers).
It is characterized by having one of the deepest histories. The information it collects is extremely useful for making business decisions and validating possible niches.
It is also able to anticipate trends thanks to its algorithm, so we will be closer to ensure the viability of our business in the future.
You may be surprised to see AMZ Scout so far down the list when, and we all agree on this, it is one of the major alternatives to Jungle Scout and Helium 10. It's really just a matter of personal preference.
We find the interface of the other tools a bit more comfortable, but that doesn't mean it has a worse quality. In fact, being in the top 5 of the best tools for product research is already something more than remarkable.
The product explorer is less user-friendly, but you can find all the detailed information in columns. If you want to remember that the Chrome extension is also available.
Do you agree with this ranking, which is the best product research tool for you? tell us about it!