Looking to get started on Amazon but not sure what seller toolkit you should pick to help you on your selling journey?
In today's Amazon seller software review, we'll be taking a closer look at ZonGuru and discuss how you can use the tool suite to take your Amazon FBA business to the moon.
The agenda is simple: to cover all things ZonGuru (unbiasedly) without taking too much of your time. Here's a quick summary of what to expect:
ZonGuru Overview – What is ZonGuru and Why Using It Makes Sense
List of ZonGuru Features
Niche Finder for Finding Winning Product Categories on the Go
How to Use Niche Rater Chrome Extension to Validate a Niche
Track Your Competitors' Sales with ZonGuru Sales Spy
Love Hate – Establish a USP for Your Product
Find Profitable, Trending Keywords with Keywords on Fire
How to Consolidate Your Review Strategy using ZonGuru Review Automator
It's a Wild West out there; use this review as your guiding GURU!
ZonGuru Overview
So what exactly is ZonGuru?
ZonGuru is an all-in-one Amazon software solution built exclusively for private label sellers. It helps you find profitable products, analyze market competition, research keywords, optimize listings, collect reviews in compliance with the marketplace TOS, track inventory, and manage other day-to-day aspects of your FBA business from a single dashboard.
The company was founded in 2015 by Adam Hudson of Reliable Education and Jonathan Tilley, who both have vast experience and expertise in selling on the smiling A.
Why You Need ZonGuru
Selling and succeeding on Amazon is not easy. There are literally hundreds of moving parts that you need to monitor regularly to make the right business decisions. You need to be on top of everything. Guesswork won't reward you here. Data should be the ultimate north star for setting up any strategies.
This is where ZonGuru comes in.
The tool provides you with all the information you need to plan your next move in your selling journey. You get access to high-level metrics as well as granular data points with just a few clicks. This information is, of course, all estimated, but it gives you a good idea of where the market is and what you should do to stay ahead of the curve.
Obviously, this is true for other seller software solutions too; ZonGuru is not the only tool that provides these features. Helium10 and Jungle Scout are some good alternatives. Ultimately, the choice will come down to your budget and what tool you prefer to use.
In our experience, ZonGuru has got one of the simplest and most fun interfaces and can be used by both beginners and pros.
List of ZonGuru Features
The ZonGuru monthly Seller plan includes sixteen tools. They are as follows:
Niche Finder
Niche Rater (Chrome Extension)
Sales Spy
Love-Hate
Easy Source
Keywords on Fire
Keywords Spotlight
Listing Optimizer
Business Dashboard
My Products
My Orders
Keyword Tracker
Product Pulse
IP Monitor
Email Automator
Review Automator
You can use ZonGuru tools across ten marketplaces, including the US, Germany, Italy, France, Spain, Canada, Mexico, Australia, India, and the UK.
Let's take a look at these tools one by one and understand how they make selling on Amazon easier.
Niche Finder – Generate Hundreds of Product Ideas in an Instant
First, in line, we have Niche Finder.
Niche Finder helps you find winning niches and products on the go. It offers two modes: i) Easy mode, and ii) Advanced mode.
With the Easy mode you simply select the marketplace you want to sell in, pick up your preferred main category (this is optional), adjust the filter depending on the budget you have – and sit back and watch the fun. ZonGuru will recommend some niches to you, which you can then evaluate further.

Image: Niche Finder Easy mode for generating niche ideas in an instant
The Advanced mode gives you more control. You can set up filters like buyer demand, competition opportunity, revenue potential, search volume, and more to find a product that best fits your goals.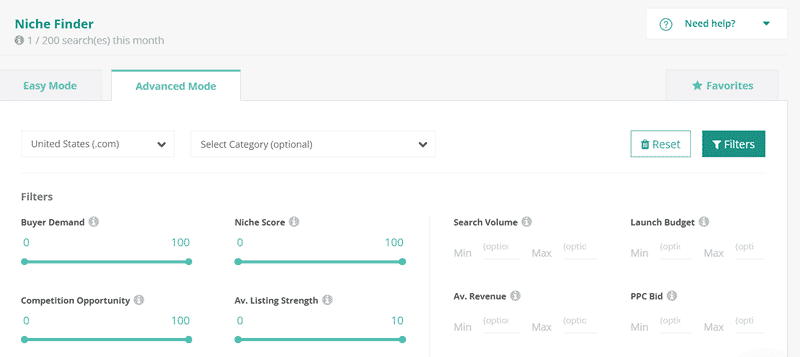 Image: Use Niche Finder Advanced Mode to find profitable niches as per your preferred criteria
Niche Rater – Validate Your Product Idea
Niche Rater is a Chrome extension that allows you to evaluate a niche in depth. Think of it as a niche validation tool.
You can use it as a standalone solution or in combination with Niche Finder. Simply run the latter to find profitable niches in your preferred category. Once you have a list of niches, study them using the Niche Rater tool to decide the best niche for your Amazon FBA business.
The Chrome Extension gives a nice visual summary of all the important metrics you need. This includes the individual and average price of the listed products, the overall demand, monthly sales, monthly revenue, ratings, reviews, BSR, and more.
You also get an estimated launch budget, a feature that is exclusive to ZonGuru. Bear in mind, however, this launch budget is just a ballpark figure and should be treated as such.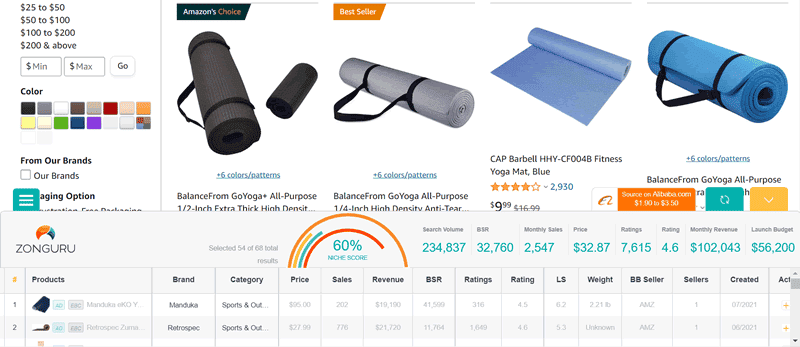 Image: ZonGuru Niche Rater Chrome extension for validating a product
Sales Spy – Track Your Competitor's Sales and Spot Seasonality Trends
Next, we have Sales Spy.
As the name suggests, Sales Spy allows you to track historical sales data for any ASIN of your choice. You can keep an eye on up to 150 products at the same time. These products can be from the same category or may spread across different categories.
Sales Spy shows you the revenue, sales, and BSR history of a listing. By tracking this information, you can check a product's seasonality and sales trends and decide if it's the right fit for you.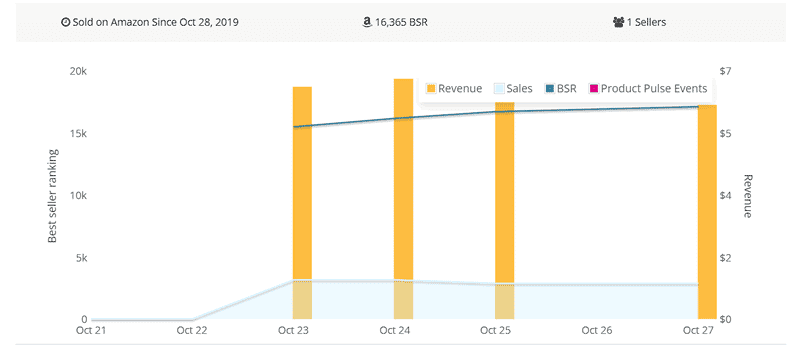 Image: Track historical sales data of up to 150 ASINs and spot common seasonality or sale patterns
Love Hate – Differentiate Your Product from the Competition
This one is a very interesting tool.
Love-Hate basically creates a word cloud of all the commonly used words from the reviews for any ASIN. This gives you some cool insights into what customers think about a particular product. What do they like about it? What is it that they dislike or think can be improved further? Sometimes they may share a story, which can help you find the inspiration to make your product different from your competitors.
You get 15 sessions per month. However, you can buy additional credits at reasonable rates if you ever get maxed out on your limit.

Image: Use insights from the Love-Hate tool to develop a product that your customers would love using
Easy Source – Find Reliable Manufacturers on Alibaba.com
Looking for a reliable supplier for your FBA product on Alibaba.com? Interestingly, ZonGuru offers a tool for that too.
Easy Source is a built-in sourcing tool by ZonGuru that helps you find verified suppliers on Alibaba.com. You can access the tool either from the main web app or through the Niche Rater Chrome extension.
The tool gives you different information about suppliers, including country of origin, years served on Alibaba, total revenue earned, market experience, lead time, minimum order quantity (MOQ), rating, and much more.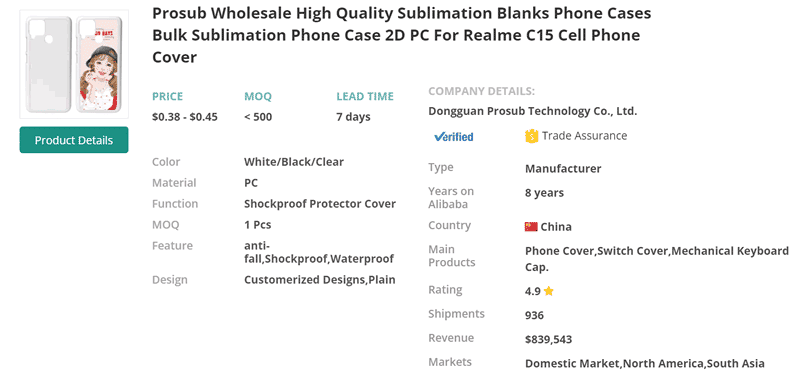 Image: ZonGuru Easy Source for finding manufacturers on Alibaba.com
That said, the tool doesn't always return vendors with the cheapest rates. It's, therefore, important to do your own research before finalizing a manufacturer for your private label sourcing needs.
Keywords on Fire – Research Low Competition, High Volume Keywords
Enter arguably the most powerful tool in the ZonGuru toolkit.
Keywords on Fire is a keyword research tool by ZonGuru that helps you find low competition, high volume keywords for your listing. It gives you up to 15 essential data points, allowing you to dive deep into your keyword research analysis and pick keywords that can bring the most traffic and conversions.

Image: Keywords on Fire main dashboard
You can use the tool by either entering a primary search phrase or selecting an ASIN of your choice (P.S: ZonGuru allows you to analyze up to 25 ASINs per session). The tool then returns a list of related keywords with their estimated search volume (backed by data from Amazon's Brand Analytics), average monthly revenue, average PPC cost, and more.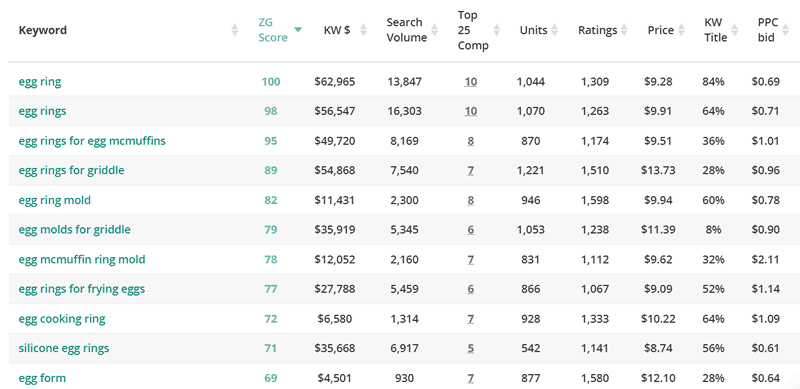 Image: Keywords on Fire session results for the product "egg rings"
Keywords Spotlight – Reverse Engineer Backend Keywords of Your Competitors
Another keyword research tool in ZonGuru's arsenal.
Keywords Spotlight allows you to pull in the backend keywords of any Amazon listing of your choice. It shows both search terms as well as subject matter keywords used by your competitors. You can then use this information to optimize your own listing and improve its visibility in the search.
The tool offers a limit of 100 ASINs per month, which can be boosted by purchasing extra credits if needed. These credits cost $10/month and allow you to add 15 ASINs to your original scan limit.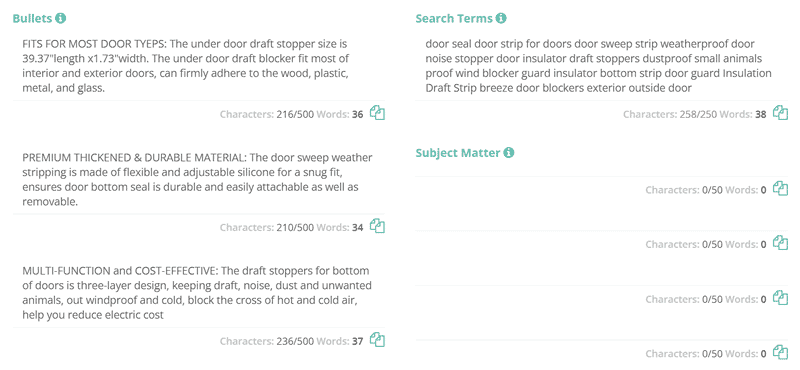 Image: Keywords Spotlight scan results for a test run
Listing Optimizer – Craft a Listing That Sells
Once you have a list of keywords that you want to target, it's time to put them to good use. This is where Listing Optimizer comes in.
The tool allows you to create a listing from scratch, importing front and backend keywords from Keywords on Fire and Keyword Spotlight, respectively (P.S: With the latter, you must use the Copy action to import keywords into the tool).
You can even add keywords while running a session. This gives you a lot of flexibility and room to work with.

Image: Listing Optimizer dashboard
As you incorporate keywords into your title, bullet points, and description, Listing Optimizer gives you an Optimization Score, which helps you determine the quality of your listing.
The tool also allows you to compare your listing with those of your competitors'. That way, you can study the context and placement for different keywords and use them appropriately in your listing. No other Amazon seller toolkit offers this feature, at least as a part of their main release.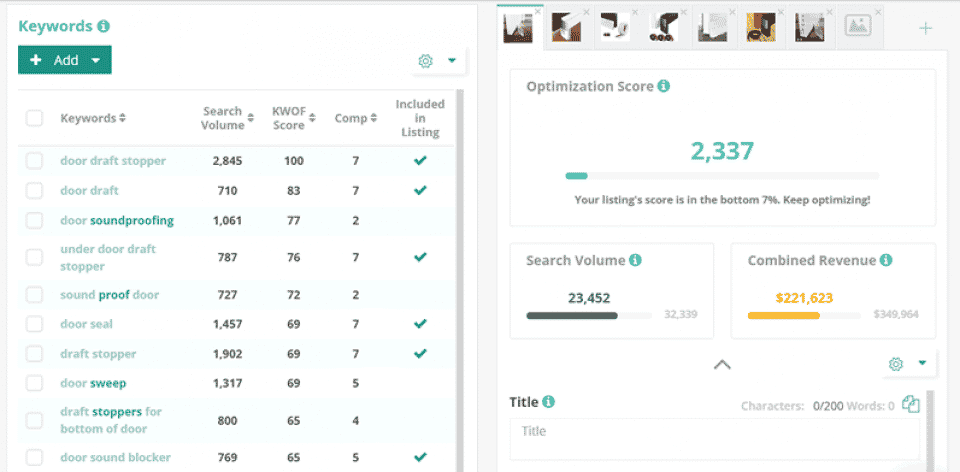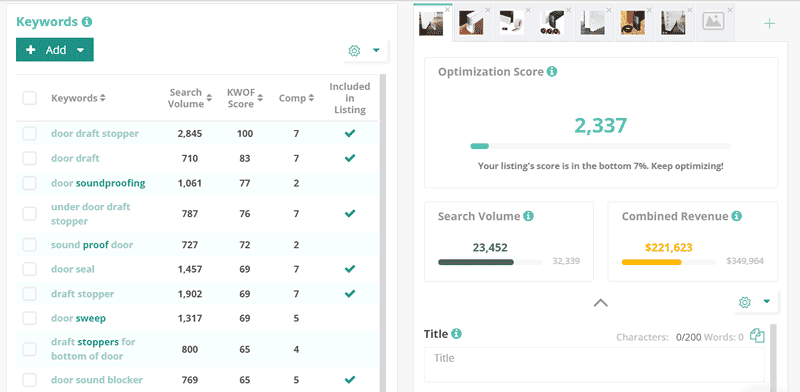 Image: Crafting a listing with the help of Listing Optimizer
Business Dashboard – Get the Bird's Eye View of Your FBA Business
Business Dashboard serves as the monitoring hub of your FBA business. It syncs to Seller Central and gives you a complete breakdown of how your Amazon store is performing. This helps you identify the strengths and weaknesses of your business and make better decisions moving forward.
The tool allows you to analyze your monthly sales, profit, loss, advertising costs, refund expenses, organic vs PPC order distribution, individual SKU performance, as well as business value accrued over time.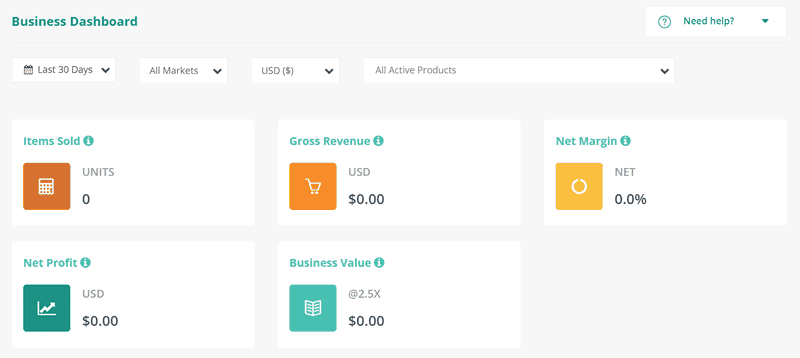 Image: Business Dashboard to allow you to keep an eye on your PL operations
If you are an international seller and sell in more than one marketplace, you can adjust the view settings and get the numbers for your full portfolio, in any currency of your choice.
My Products – Never Run Out of Stock Ever Again
My Products is a subset of the Business Dashboard tool. Here, you can monitor the inventory levels of your different products.
Depending on your existing inventory levels, historical sales velocity data, and manufacturing and shipment lead time, the tool sends you reorder prompts so you never have to worry about running out of stock. The lead time information is entered manually when you first set up the tool.

My Orders – Instantly Find Order Details at a Click of a Button
Just like the previous two tools, you need to have an active seller account to use My Orders.
This tool basically helps you find and grab order details for both shipped and pending orders. Why may you need to do that? There can be several reasons.
Maybe, you want to contact a customer to offer them a refund. It could be that you want to find where most of your customers are located so that you can run a targeted marketing campaign. The possibilities are nearly endless.

Image: My Orders tool in action
Keyword Tracker – Track Your Keyword Performance
As the name suggests, the Keyword Tracker tool allows you to track your organic rankings on Amazon for different keywords. You can add these keywords manually or let the tool pick them for you.
Below are the available data points you can monitor through Keyword Tracker:
Keyword search volume
Current position
Current page
30 days ranking history
Position change
Page change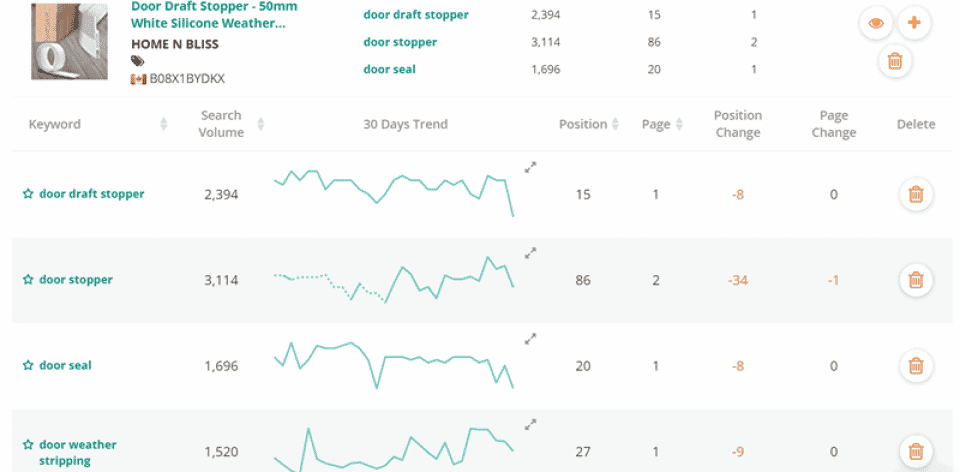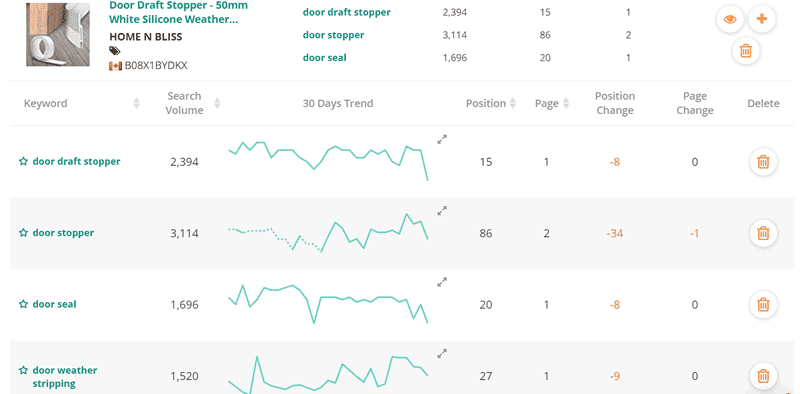 Image: Keyword Tracker enabled for the product door draft stopper
Product Pulse – Stay Alert with the Changes
Product Pulse allows you to monitor key information for your own products and your competitors', alerting you of any changes you may miss otherwise.
The tool is very simple to use. Just enter the ASIN(s) you want to monitor, select the marketplace, and hit "Add". It will compile all the information and show it in a table. The next time your sales price runs out, someone leaves a review on your listing, or a competitor adds a new keyword in their title – you'll be alerted immediately.
With Product Pulse, it becomes easier to have your finger on the pulse to what is happening in your niche, and your listing in particular.
Image: Product Pulse in action for ONFINIO PC gaming headset
IP Monitor – Safeguard Your Listing from IP Infringement Attacks
Next, we have IP Monitor.
The IP Monitor tool serves as a watchdog for your listing. It keeps an eye on malicious sellers who may try to tamper with your listing or steal your content. Of course, the tool doesn't work with 100% accuracy but it does a decent job alerting you against potential hijacking attempts.
To get started, simply enter your ASIN and the keywords you want to have the protection for. Bear in mind the tool will only alert you for the keywords you have listed, so make sure to pick the most important keywords that are exclusive to your brand or listing.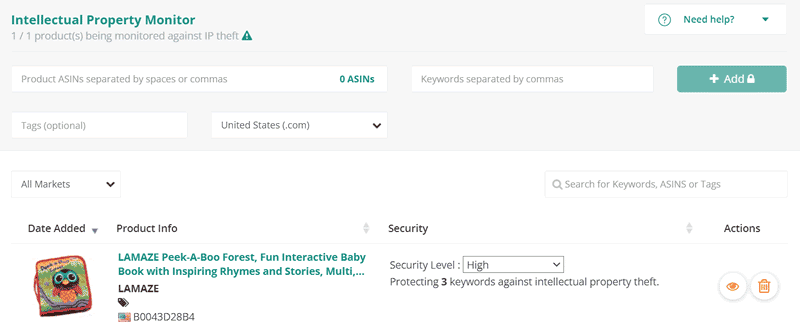 Image: IP protection set high for the product LAMAE Peek-A-Boo-Forest soft flap bag
IP Monitor offers three levels of protection for your Amazon listing: i) Low, ii) Medium, and iii) High. The latter is the most robust one when protecting a listing from potential IP infringement attacks.
Email Automator – Send Product Guides, Warranties, Etc. to Your Customers
ZonGuru also offers tools for driving customer engagement. One such tool includes Email Automator.
The Email Automator tool is designed to reinforce your email marketing strategy, sending automated emails to your customers. These emails can be customized and may contain attachments for product warranties, installation manuals, brochures, etc. They can also be follow-up emails to build a strong relationship with your customer.

Make sure to read Amazon's TOS to learn what you can and cannot include in your email copy before you start sending out the emails through Email Automator. Also, you must connect Seller Central with your ZonGuru account to use the tool.
Review Automator – Boost Your Reviews and Drive More Sales
Last but not least, we have the Review Automator tool.
This tool helps you collect reviews from your customers while making sure your account remains 100% safe. It uses the standard Amazon email template for sending review requests to your customers. This means you have an equal chance of getting a positive or negative review, which is definitely not ideal, but it helps you stay compliant with Amazon's review policy.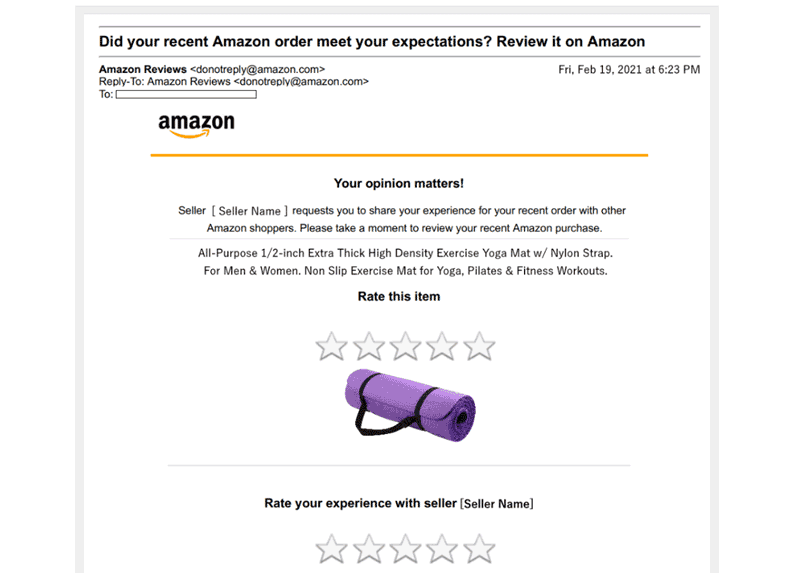 Image: Amazon email template for review requests
All review requests are sent at optimal times to maximize your chance of securing a review. Furthermore, the refund and canceled orders are automatically filtered out to make sure only eligible customers receive the review request.

Image: Daily review requests breakdown
Pricing – How Much Does ZonGuru Cost? Is it Worth it?
Let's talk about the pricing now.
ZonGuru offers two plans to customers: i) Researcher, and ii) Seller.
The Researcher plan starts from $39/month and contains all the tools for product and keyword research and listing optimization. These include Niche Finder, Niche Rater, Sales Spy, Love Hate, Easy Source, Keywords on Fire, Keywords Spotlight, and Listing Optimizer.
The Seller plan starts from $49/month and includes all the sixteen tools to help you launch and sell a private label product on Amazon successfully.
Both plans come with a 7-day free trial, which allows you to test the tools to see if they are the right fit for you.
Is it worth spending that much money on ZonGuru?
Think of this: You want to build a successful business on Amazon. This business will ultimately replace your full-time income. You'll be able to earn hundreds and thousands of dollars in passive income. ZonGuru can help you get there for as low as $39/month. Not a bad deal, eh?
Of course, nothing is guaranteed, but that's a risk every business carries. The upside is huge. No pressure, though; the final call is yours.
More posts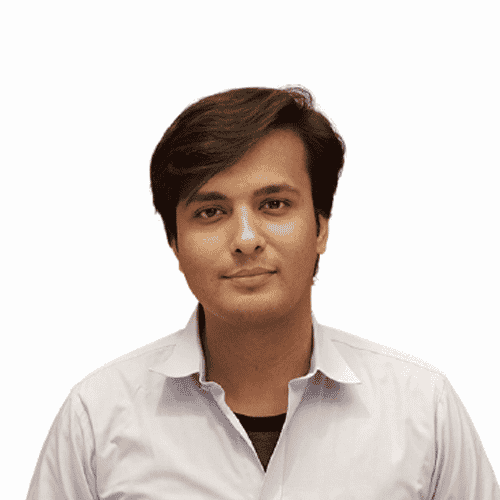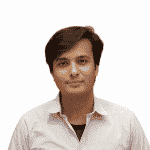 A marketer by trade, a writer at heart, and an Amazon evangelist around-the-clock, Hammad lives and breathes the world of the smiling A (aka Amazon). He can often be found discussing the ins and outs of the marketplace across the web. In the very rare instances when he is not busy educating the audiences, he likes to sit down and have a good me-time watching the latest football action on his large-sized TV screen.
He's currently a Freelance SEO and Content Marketer for clients such as Zonguru, Digital Copy Pro and Shopkeeper.