In the competitive world of e-commerce, Amazon is a dominant force that attracts millions of customers every day. With such a large customer base, it's no surprise that the platform has become a breeding ground for counterfeiters and unauthorized sellers.
As a brand owner, protecting your products from these threats is critical to maintaining your reputation and sales. Fortunately, Amazon offers brand gating — a vital tool that provides this kind of safeguard.
What is brand gating? | Amazon 101
In this article, we'll discuss what brand gating on Amazon is, why it's essential, and how to use it to defend your brand from malicious actors. Oh, one more stat before we start:
In 2022, brand owners' sales grew more than 20% in the Amazon store compared to the previous year.
That a quote from the 8 takeaways from Amazon Small Business Empowerment Report, full of brand success stories.
What Is Brand Gating on Amazon?
Amazon gating is a method implemented on the platform to restrict unauthorized sellers from listing specific brands or products.

If your brand is gated, the process requires third-party sellers to have an Amazon Professional Seller account and apply for the right to sell your products by submitting the following:
Manufacturer's invoice not older than 90 days
Written authorization from you as the brand owner
$1,500 non-refundable fee
This helps ensure that only legitimate sellers with the proper authorization can sell your products on Amazon's marketplace. It also guarantees that your brand is protected from hijackers selling counterfeit versions.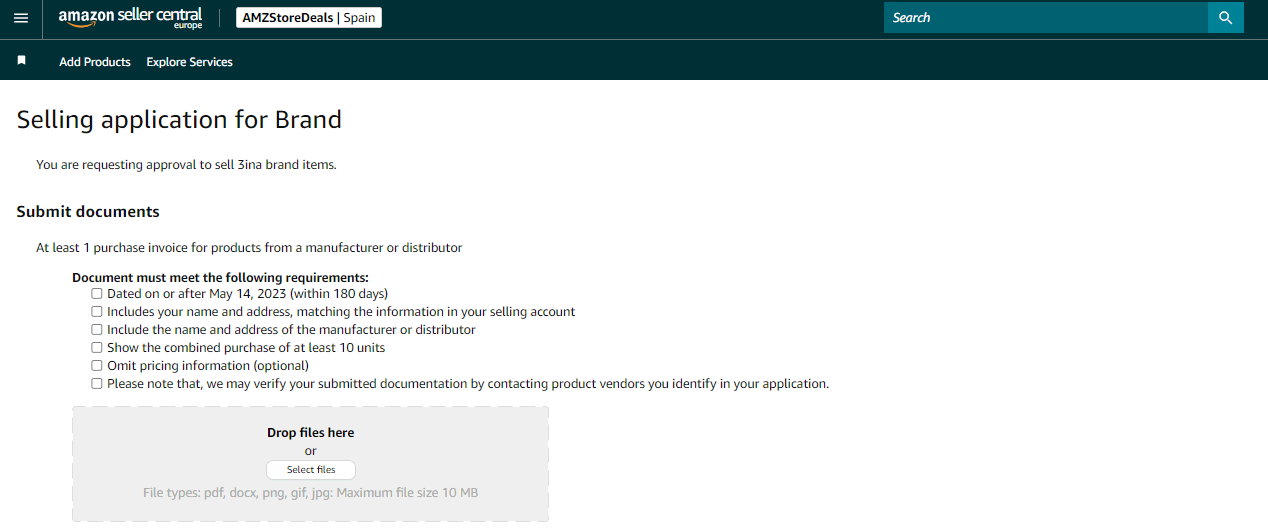 How to Protect Your Brand on Amazon Via Gating
Amazon gating benefits are multifold.
Firstly, brand gating allows you to maintain control over your brand image and reputation. By limiting the number of sellers and having a single source of your products, you can better manage quality and customer experience. This results in enhanced customer satisfaction and loyalty.
Secondly, the Amazon gating policy is an effective obstruction against counterfeiters who profit from selling knock-offs or unauthorized reproductions of your merchandise. It minimizes the risk of imitations flooding the market and damaging your brand's integrity.
Lastly, you can regulate pricing when your brand is gated. Most sellers of counterfeits on Amazon offer their items at meager prices, which they can afford because of low quality. Unfortunately, unsuspecting shoppers are lured into purchasing these products based on price alone. This means lost sales for you and your authorized sellers. A problem that can be solved by brand gating.
You can consider it an essential measure that assures ROI on the careful planning and execution of your brand and the marketing and advertising expenses you have incurred.
How to Apply for Amazon Brand Gating?
The Amazon Brand Gating application process involves several steps, and we should warn you: it's not simple or easy. And it also takes time. But your efforts will pay off in the long run if you've invested time and money in establishing a reputable brand name.

Step 1: Enroll in the Amazon Brand Registry.
These are the eligibility requirements:
Registered Trademark
This trademark can be text-based or image-based marks and issued by the United States Patent and Trademark Office (USPTO).
A trademark from any government trademark office in Australia, Brazil, Canada, European Union, India, Japan, France, Germany, Italy, Mexico, Poland, Saudi Arabia, Singapore, Spain, Sweden, The Netherlands, Turkey, United Arab Emirates, and the United Kingdom is also accepted.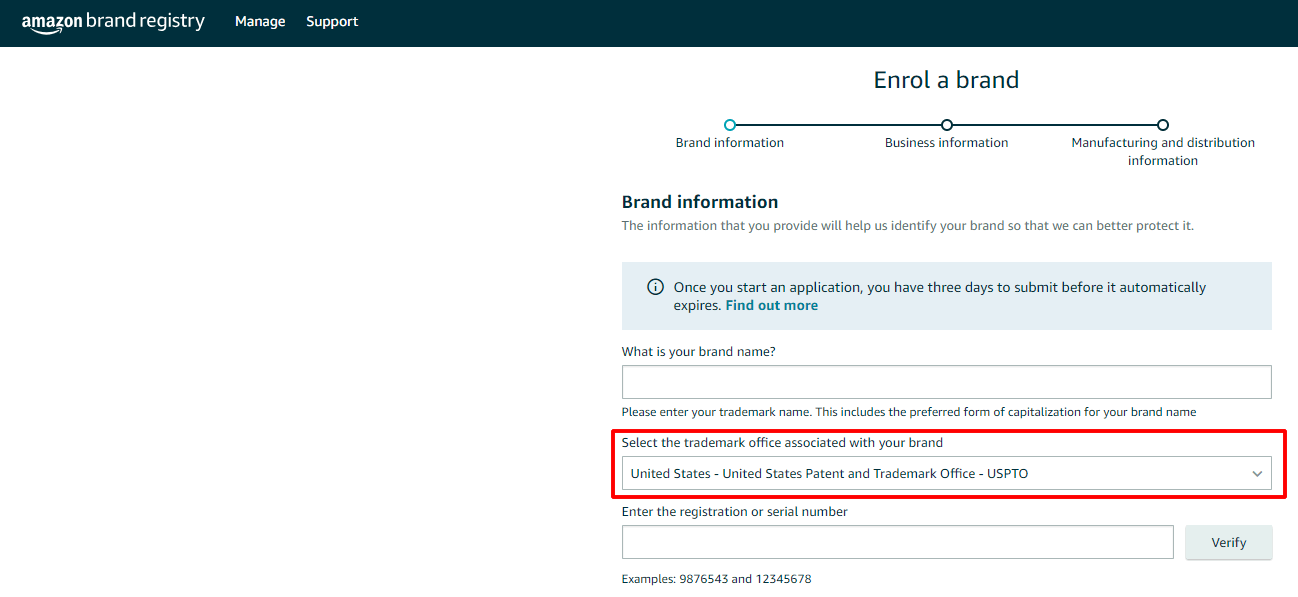 Proof of Trademark Ownership
The USPTO requires a verified statement or declaration with your signature to prove that you are the lawful trademark owner. You can submit the same document to Amazon to verify your ownership.
Products with Trademark Name
Upload photos of your product(s) and packaging (if applicable) that prominently display your trademark name to inform Amazon of the items produced under your brand. It will also further establish your brand ownership and the authenticity of your merchandise.
Manufacturing and Distribution
Next, you must submit the categories in which your brand holds product listings. This information will help Amazon protect your products across the board.
Then, list the countries where your items are manufactured and distributed so Amazon understands the global reach of your brand. This also ensures that your merchandise is safe and secure in all relevant marketplaces.
Amazon Professional Seller Account
To complete the enrollment process, set up an Amazon Professional Seller account if you haven't yet. Note that being an existing Amazon seller doesn't automatically place you on a professional level.
There are two types of seller accounts on Amazon: individual and professional. The professional selling plan entails a $39.99 monthly fee, and the account gives you access to the tools and resources provided by the Brand Registry program.
Step 2: Validate your Amazon Brand Registry application
Once you've submitted all the required information outlined above, Amazon will ask you to verify your registration by:
Submitting your company or corporate documents
Confirming your declared mobile phone number via text
Accepting the policies, terms, and conditions of the Brand Registry program
Amazon will confirm your registration status within 1-2 weeks and grant you access to the powerful brand protection features and benefits of Amazon Brand Registry.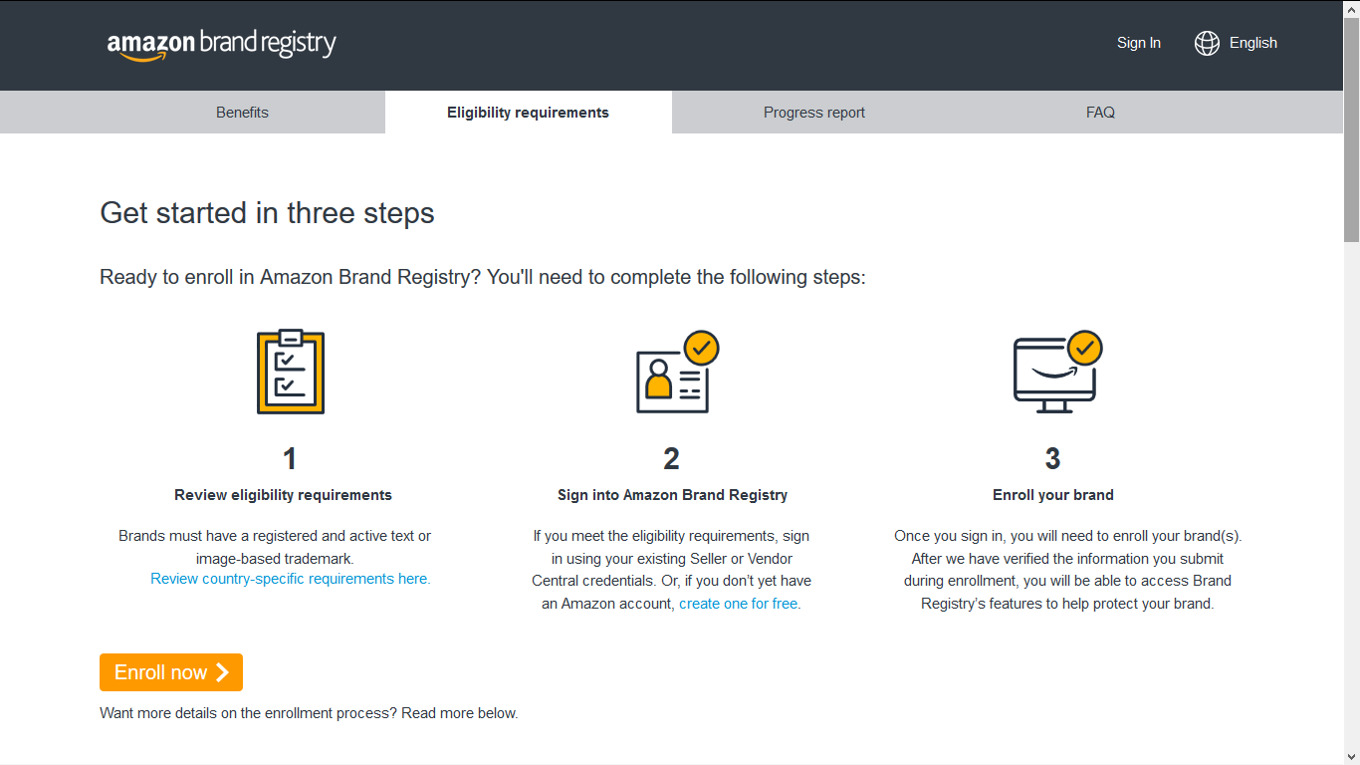 Step 3: Create a list of products for Brand Gating
Amazon standard identification numbers (ASINs) are used to identify products listed on the platform, and these unique identifiers are all the e-commerce giant needs when you apply for Brand Gating.
In many sellers' experience, the shorter your list is, the faster your Brand Gating application gets approved.
So, if your product catalog is voluminous, select your bestsellers and/or those frequently hijacked by counterfeiters. Once you have them gated, you can continue with the rest of your ASINs in batches.
Step 4: Gather your documented counterfeit deterrence activities
Most likely, you're interested in Brand Gating because of previous hijacking incidents on one or more of your ASINs. If so, have you reported such infringements to Amazon Seller Support? You can use those reports as proof that you are proactive in looking for counterfeit or unauthorized listings.
Some sellers believe that providing evidence of actively fighting against counterfeiters fast tracks the Amazon gating process of application. Therefore, if you haven't done it, start immediately. And when you do, make sure you use the Amazon Report Infringement Form.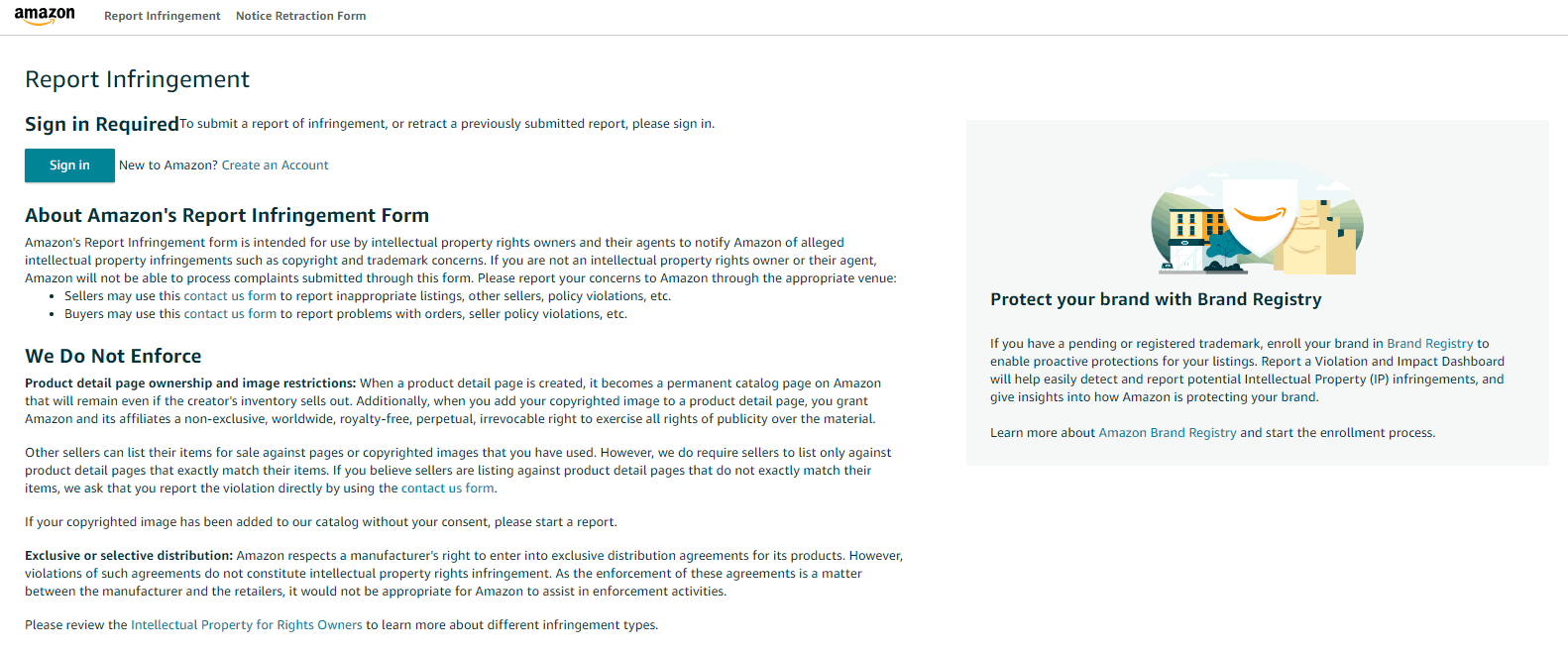 These are other ways you can prove to Amazon that you're serious about protecting your brand ownership:
Cease and Desist Letters
Send 'cease and desist' letters to offending unauthorized resellers through email. Revision Legal offers a free Amazon Cease and Desist Letter template here. After filling out your information, you may copy and paste the letter to the email body or attach it as a PDF. Note that you have the right to issue cease-and-desist letters only if you own the trademark for your brand.
Provide Amazon with a copy of the PDF or a screenshot of the email itself when you apply for Brand Gating.
The Transparency by Amazon program allows you to place unique codes on your products, which customers can scan to verify authenticity before purchasing. It provides additional protection for deterring counterfeiters and sustaining your brand protection. Using this tool also instills trust in your brand.
Amazon requires the following for enrolling in the Transparency program:
Membership in Amazon Brand Registry
Global Trade Item Number (GTIN) for each product (UPC, ISBN, or EAN)
Capability to add unique codes to every unit manufactured (the numbers included in barcodes, which may be your products' existing serial numbers)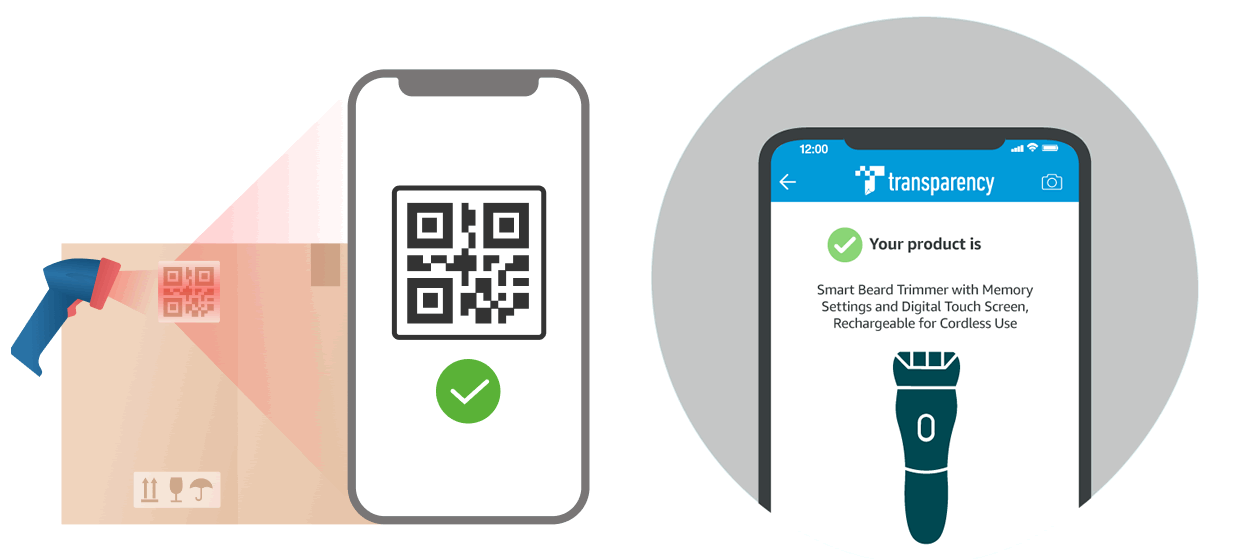 Product Bundling
Selling several items together as a single product is a good marketing tactic and can make it almost impossible for hijackers to copy your merchandise. At the very least, the difficulty in replicating more than two items at once will discourage them.
Remember to include those ASINs (yes, you must create a new listing for each bundle) in your Brand Gating supporting documents.

Step 5: Submit your Brand Gating application
Log in to your Brand Registry account to submit your application and provide all the documents you have compiled. Waiting time is from 3 to 5 weeks. You can track the status of Amazon's approval in the Case Log of your Brand Registry account.
Other Ways on How to Stop Unauthorized Sellers on Amazon
In addition to Amazon Brand Registry and Amazon Transparency, which provide the necessary resources to monitor and control your brand on the platform, you can implement the techniques outlined below.
1. Utilize Amazon Seller Central
Familiarize yourself with the tools and resources on Seller Central, which allow you to manage your listings, monitor sales, and track performance. Regularly checking these metrics will warn you of red flags or unusual patterns.
2. Execute a Strong Amazon Branding Strategy
Create a unique brand identity and establish an online presence through a website and social media to make it more difficult for counterfeiters to replicate your brand and products.
3. Educate Your Customers
Take advantage of your product descriptions and insert information about the risks of purchasing from unauthorized sellers and the benefits of buying directly from your brand. This will also help build customer loyalty and minimize the demand for counterfeit products.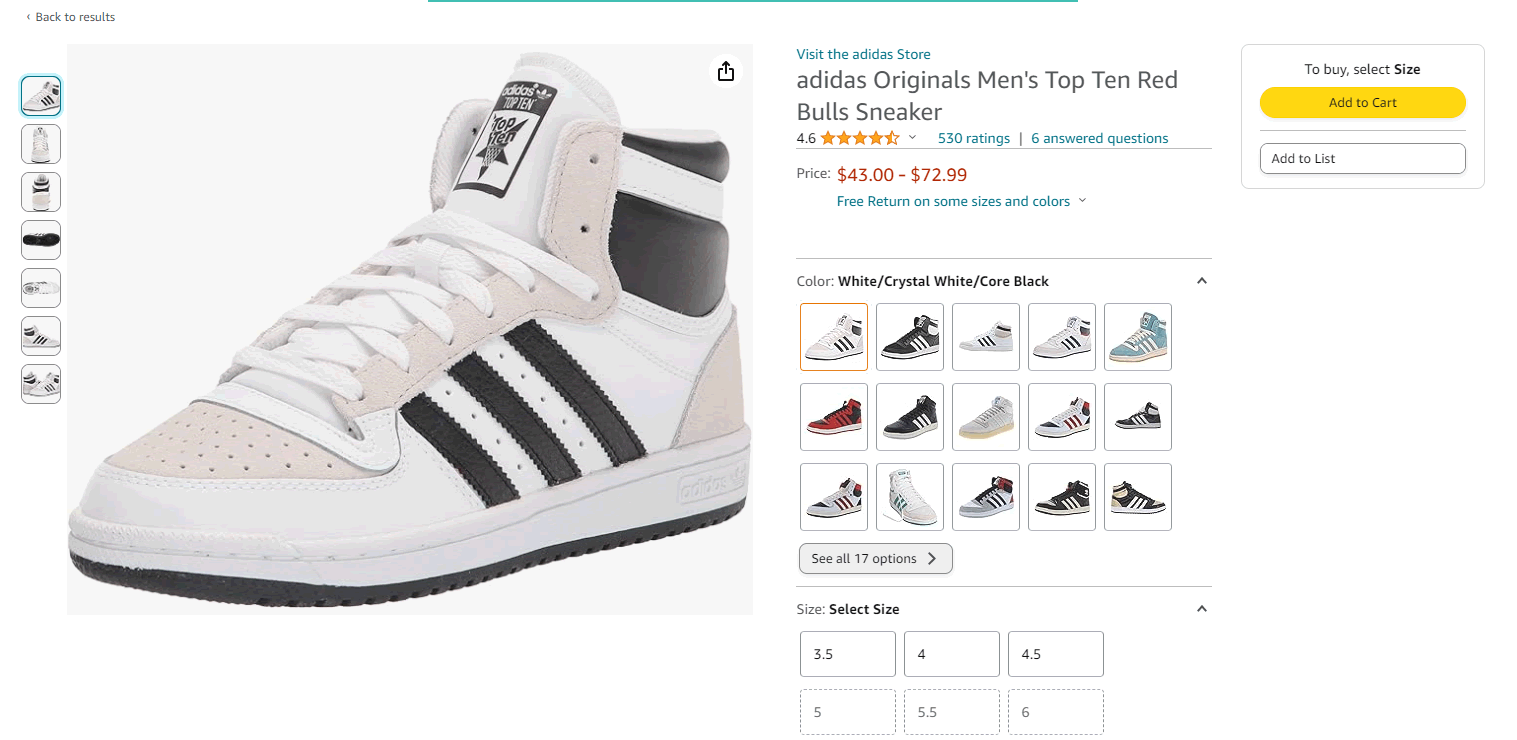 Final Thoughts
Securing your brand is vital to maintaining its reputation and your sales in the e-commerce space, especially on Amazon, where competition is stiff and hijacking is rampant.
Remember to regularly monitor your listings and take swift action against any infringements to sustain the integrity of your brand. Combining the strategies above with Amazon brand protection tools can effectively stop unauthorized sellers in their tracks and combat counterfeiting on Amazon's marketplace.
Amazon Brand Gating is a proven solution to keep your business safe and thriving. You can also count on the Amazon Tools for Sellers reviews to support all aspects of your enterprise, from product research and listing optimization to advertising and review management.
More posts