Wondering how to get your Amazon business on the right track with the least effort and losses? Managing your ad campaigns in a granular way is a sound strategy but now let's see how you can boost this tedious task through AI.
For today's Amazon seller software review, we'll take a closer look at Zon.Tools and discuss how you can improve your strategy by taking the automation route so that half the battle with Amazon competition is won. Zon.Tools offers a PPC Automation platform that packs a punch with 6 unique tools or engines that would take out the pain of keeping your ad campaigns running smoothly.
We know there's hundreds of software offering PPC automation so hopefully this review can shed light on which you pick a winner.
Discount
Use our codes to get a 15% lifetime discount or 30% during 3 months on any Zon.tools plan
15% off lifetime or 30% off during 3 months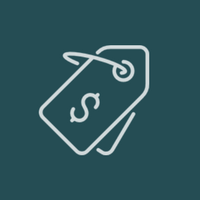 Zon.Tools Overview
So what exactly is ZonTools? Zon.Tools not only offers you a genuine break from constantly monitoring your ad campaigns. The platform has 6 engines that automate your Amazon Sponsored Products based on best practices. They are all flexible and can be adapted to suit your advertising strategies and goals. For a detailed review, check ZonTools review.
Zon.Tools landing page dashboard
You can use Zon.Tools across all marketplaces except China. You can use it for the US, Germany,  United Arab Emirates, Japan, Netherlands, Italy, France, Spain, Canada, Mexico, Australia, India, and the UK.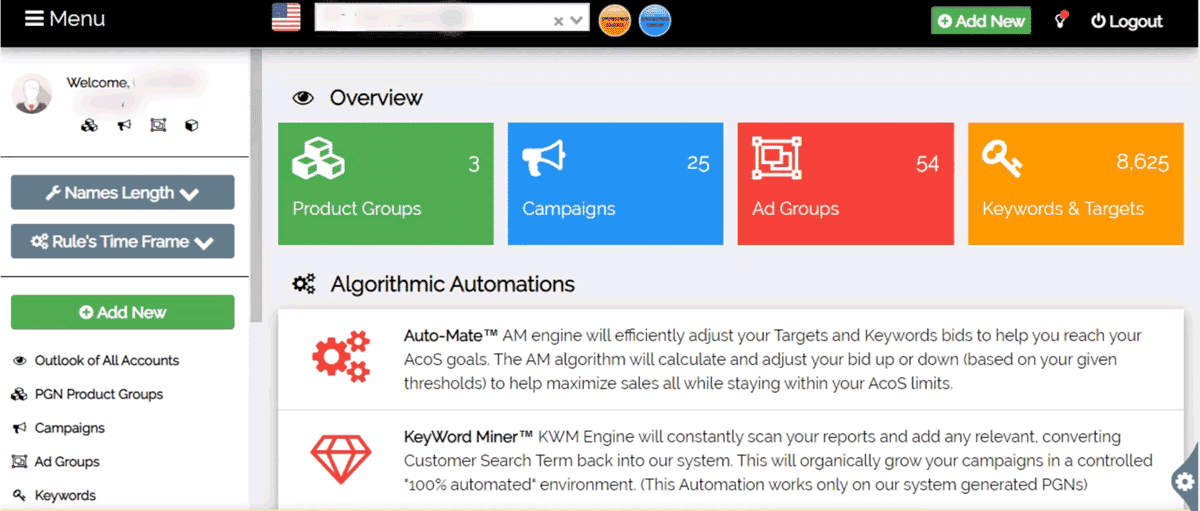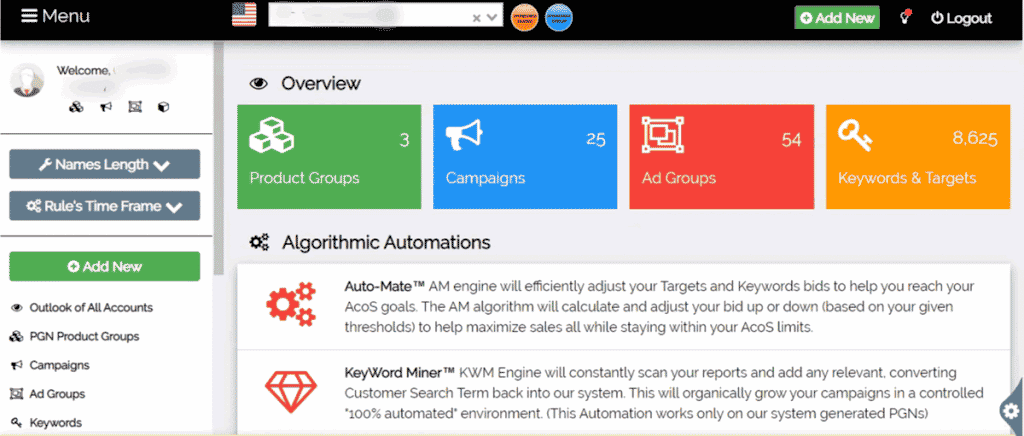 Making your PPC effective with a Structural Strategy
Zon.Tools' genius lies in the use of what they call PGN or product group name, a proprietary campaigns structure unique to Zon.Tools.  Within PGN and using 6 automation engines, your ad groups are configured to fully manage and leverage the full potential of Amazon Matching algorithm and Sponsored Products. This unique campaign strategy is the foundation of Zon.Tools that brings your automation game to top levels.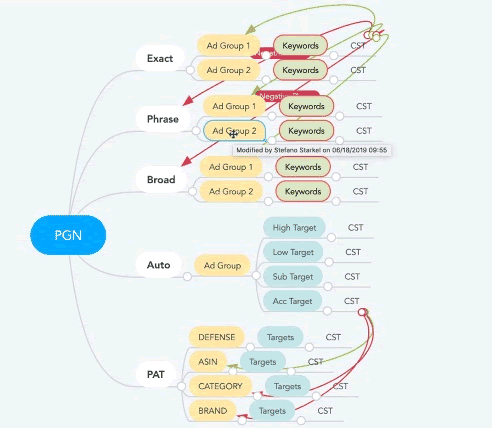 PGN structure
At the onset you sync up your Amazon accounts with the Zon.Tools platform.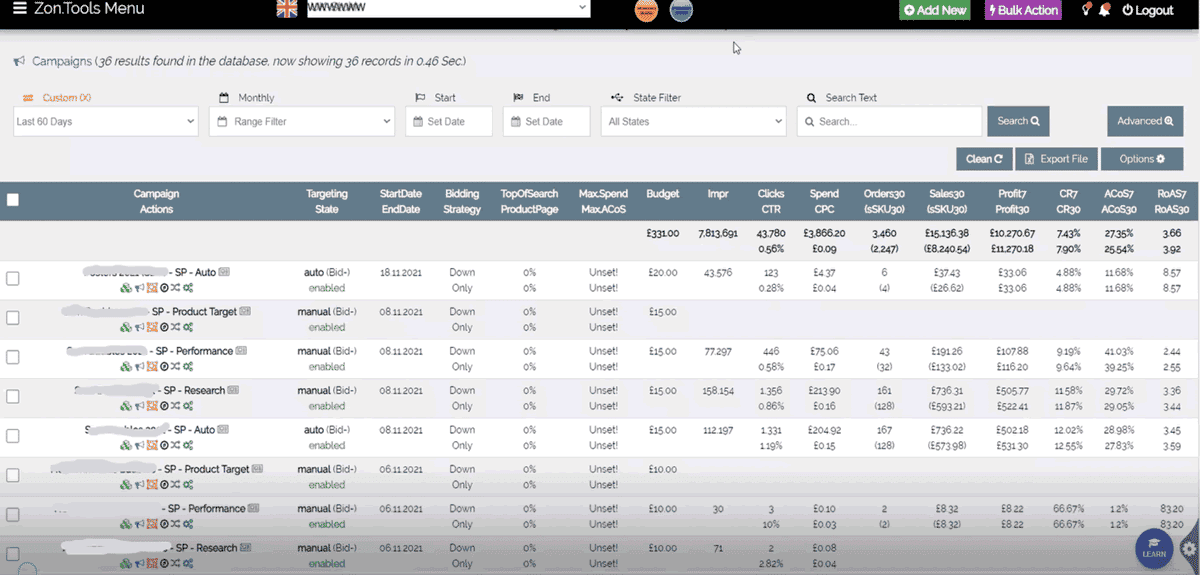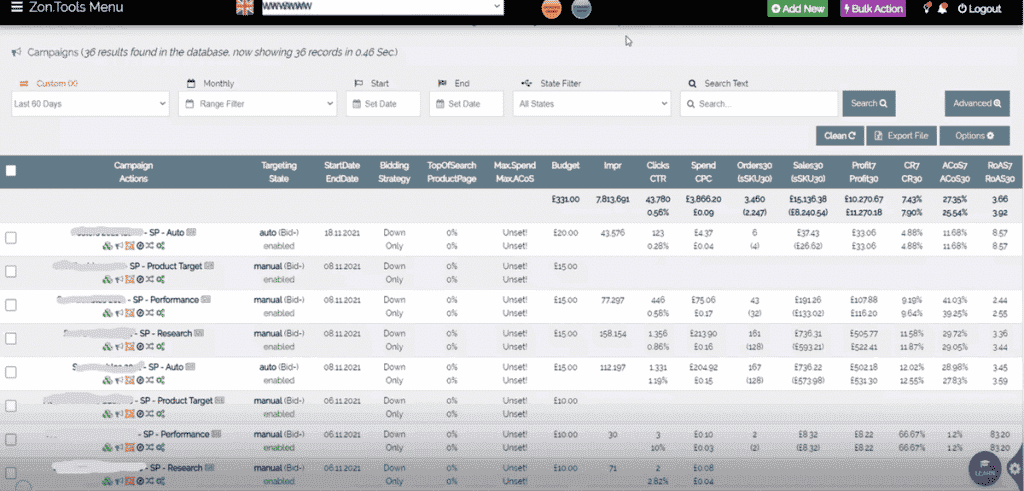 Once in the system, you then establish campaign thresholds so that Zon.Tools' 6 automation engines can scan your Amazon reports periodically and using the PGN structure optimize your Amazon sales.
3.1 - PGN 2.0 Overview - with PAT and EAT
Setting your Campaign thresholds
This is pretty easy, as you can edit your PGN and add new keyword campaign thresholds:
Target ACoS
Relevancy sales
Minimum clicks
Maximum spend per keyword…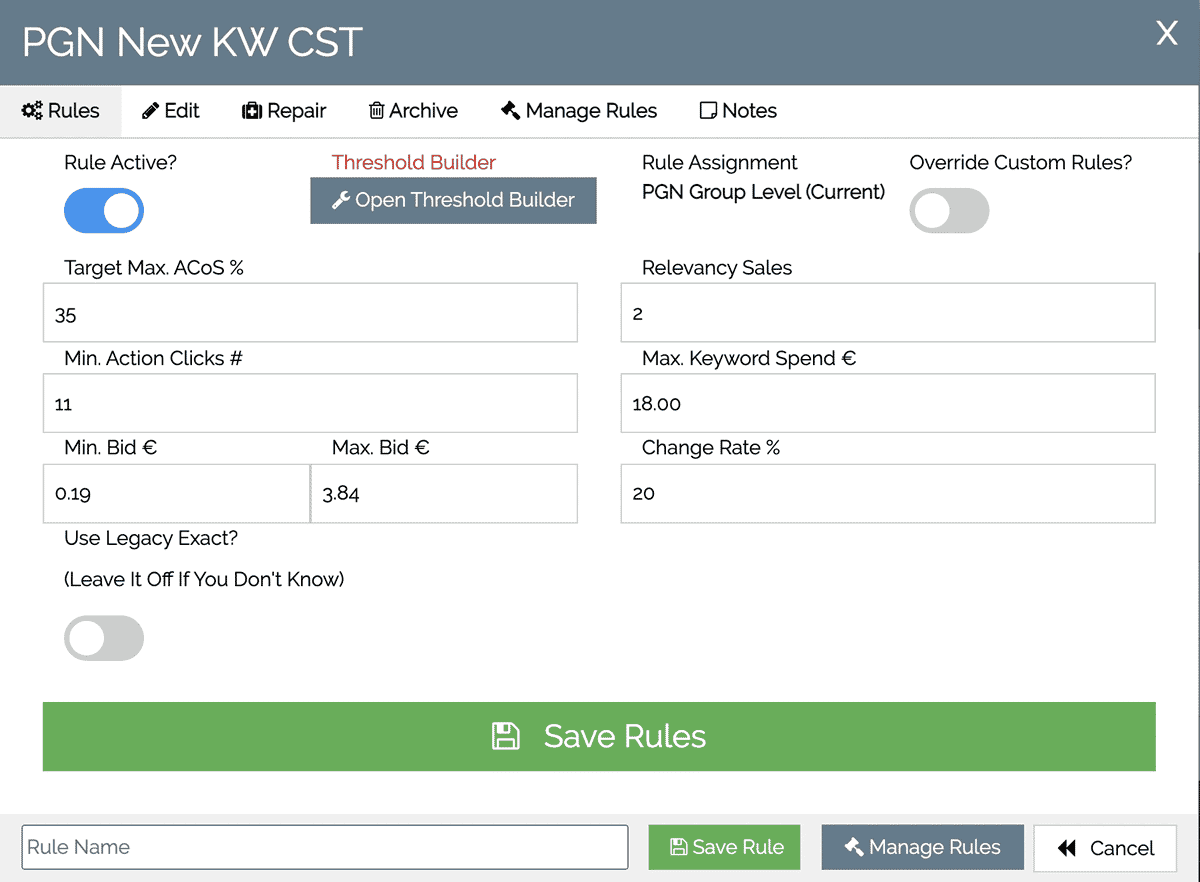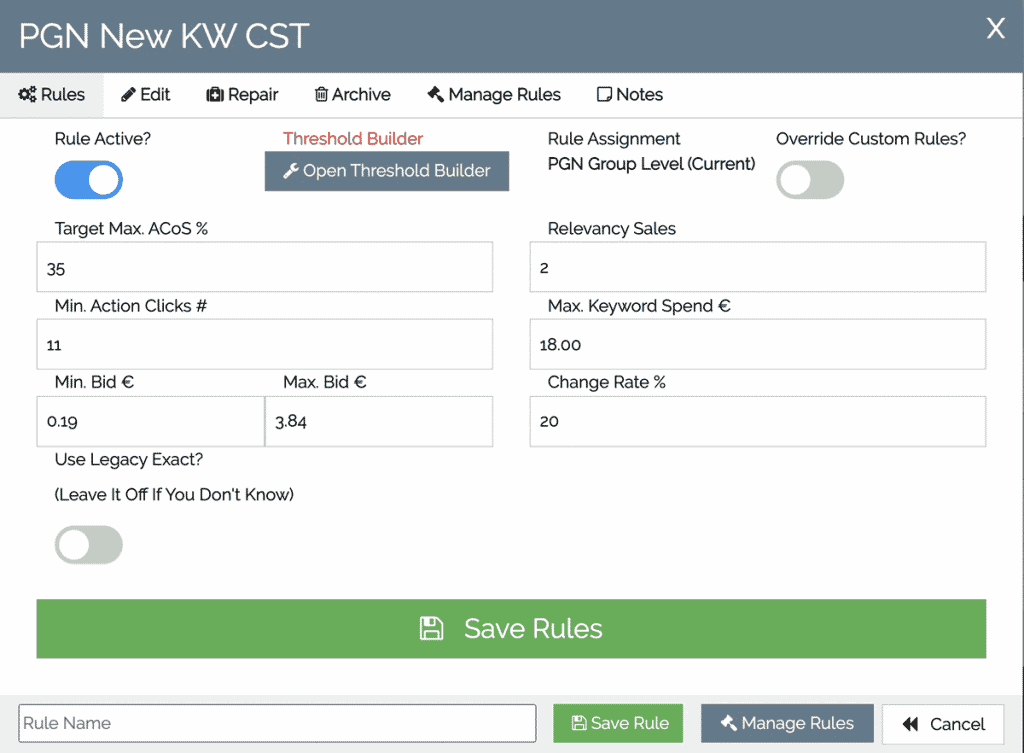 Readily accessible Campaign metrics
If you are familiar with Amazon advertising metrics, you will love Zon.Tools metrics. Some of them are:
Top of Search share (pretty important!)
Maximum spend
Maximum ACoS
Budget
Impressions
Clicks
CTR
CPC
Orders coming from advertising in the past 30 days
Sales coming from advertising in the past 30 days
and more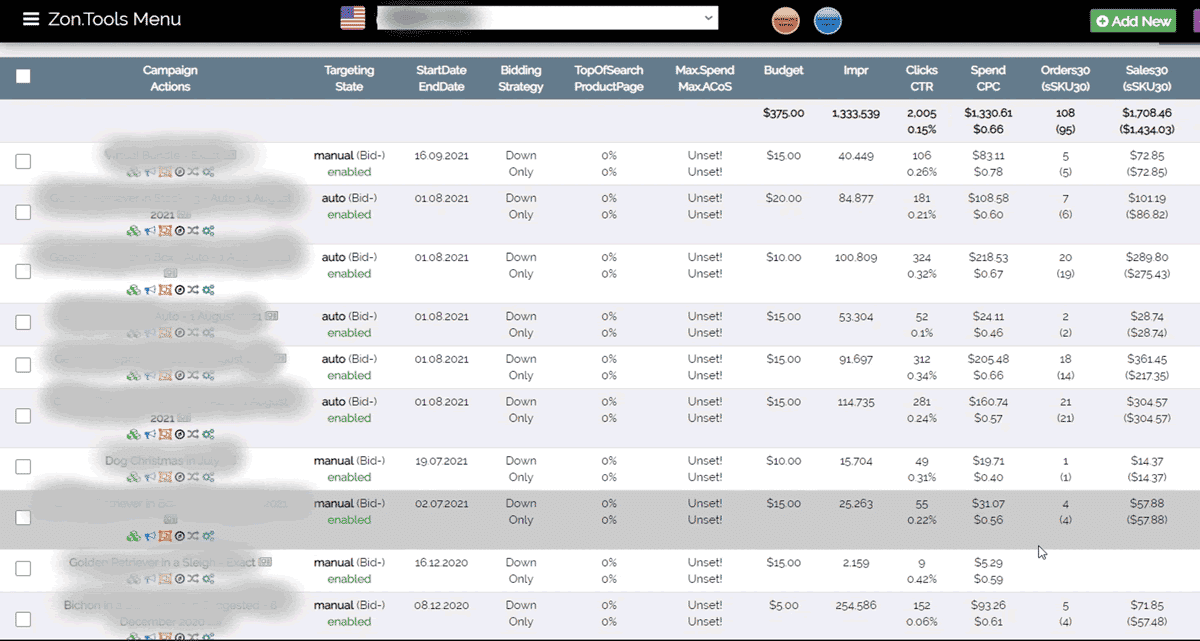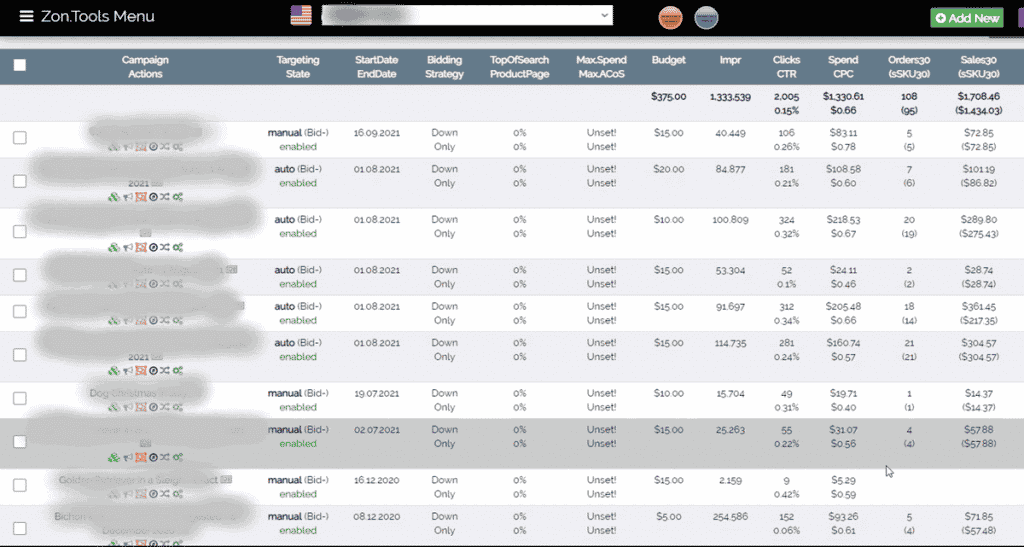 Auto-Mate 3.0™ conducts a symphony of Automation
For all your automation helpers to work together, Zon.Tools offers  Auto-Mate 3.0™  functioning as the conductor in charge of the automation orchestra. Think of the other automation engines as your musical instruments.  
Auto-Mate (AM) adjusts all your keywords' and targets' bids to reach your ACoS goals. Based
on all the results from 6 automation engines, it calculates and tweaks your bids appropriately, either up or down in order to maximize your sales and optimize your ACoS limits.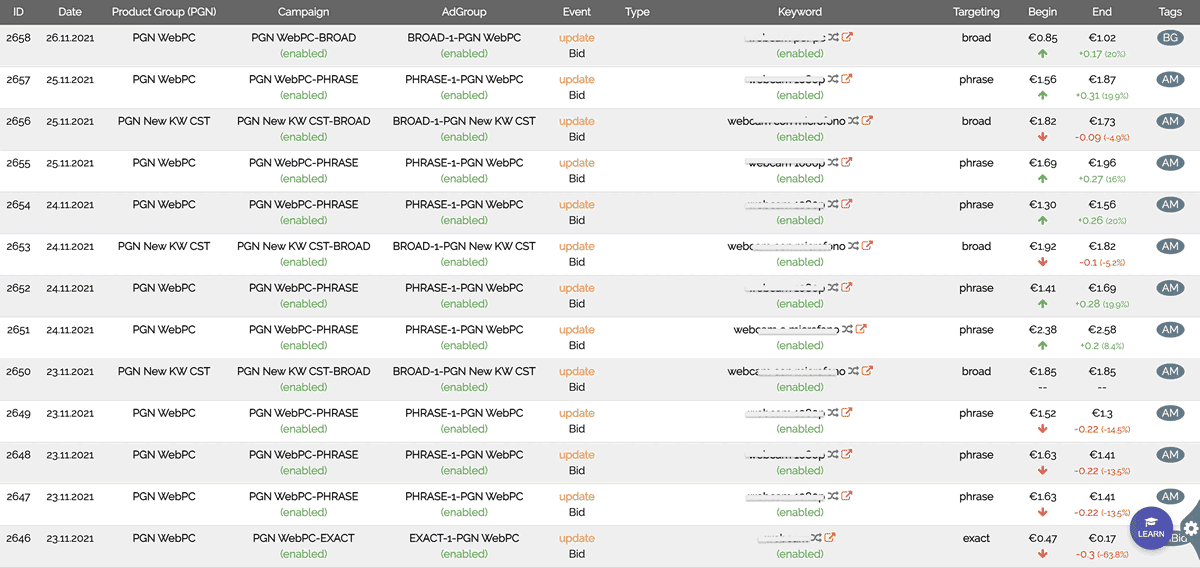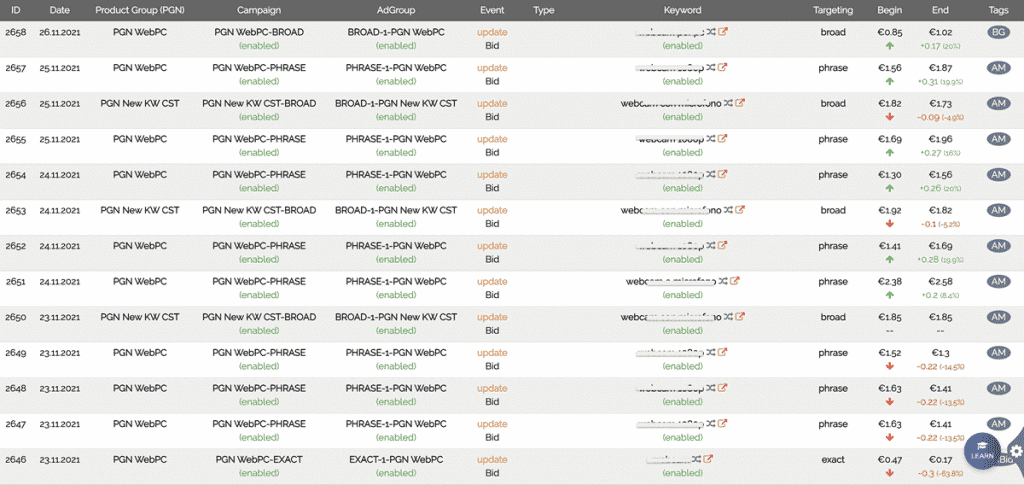 Bid Gambler™ 
Another killer feature, it keeps Impressions growing with Dedicated Automated Bidding and, of course, in autopilot
Bid Gambler optimizes each keyword bid while keeping your cost per click in check.   If your keywords' or targets' bids are too low, BG periodically increases the bid up until you start getting more impressions and clicks.


Automations for Keywords
KeyWord Miner™ checks on search term conversions
The KeyWord Miner (KWM) adds all converting search terms back into your keyword Ad-group so that your keyword bucket is constantly updated. KWM ensures that you don't keep using search terms which do not generate sales. With KWM's automation, your ad campaigns grow organically, but without you endlessly checking which keywords need to be manually removed.
Automate Your Existing Campaigns - Zon.Tools Amazon PPC Software
Term-Inator™ terminates non-converting keywords
The Term-Inator (TI) engine acts like a sieve and weeds out bleeding search terms where needed. TI fine-tunes your Auto, Broad and Phrase campaigns so that they have better matching capabilities.


Automation engines for ASINs
Target Miner™  keeps your ASINS updated
The Target Miner (TM) engine adds all relevant and converting ASIN back into your ASIN Ad-Group. TM organically grows your ad reach in a controlled "100% automated" way.
ASIN-Ator™ terminates bleeding ASINs
The AA engine removes any bleeding ASIN where needed.Like the TI engine, AA improves your Auto and Product Targeting campaigns for better matching capabilities.

Harvesting and Isolating Search Terms
To further secure your business, Zon.Tools uses an advanced strategy called Search Term Isolation that allows you to bid only on keywords that drive sales. Fantastic idea, right?
The system achieves this for you with a combination of techniques set into motion by its 6 automation engines. Here are the results you can rely on:
Move out low-converting search terms and corral them out of your active list. Eliminating these means allocating your ad budget to keywords and search terms that generate real earnings.
After eliminating the low-converting search terms from your active bucket, Bid Gambler (BG) sets your bid at 50% higher than the average CPC. And if you're still not getting more impressions, it raises your bid up to 100% higher. The goal is to outbid the competition and isolate shoppers that search for your winning keywords.
Auto-Mate bids low on keywords which have related search terms that are low-converting, but which can still generate a few sales. Doing so reduces your exposure for these keywords and consequently reduces your ad spend, but at the same time letting the occasional sales push through. Later on, you can  manually end these campaigns when they stop generating sales.
Zon.Tools is a powerful PPC automation solution if you are selling on Amazon. You can perform almost all your PPC tasks at a premium offer but at an affordable price. With Zon.Tools your growth and success in Amazon is assured.
More posts
I work as an independent eCommerce and Amazon consultant.
Clients
Estrella Damm, Intersport, Bella Aurora, Lladró, Textura Interiors, Nice Things Palomas, Castañer, Due-Home and many other clients.
Lecturer & Teacher
I teach and have been a speaker at: Meet Magento, Prestashop, Prestashop Day, SEMRush, Cambra de Comerç Barcelona, ​​ClinicSEO, Ecommbeers, Ecommbrunch, Ecommercetour.com, Ecommfest, EOI, ESIC-ICEMD, Foxize, Generalitat de Catalunya, Inesdi, Quondos and The Valley. In addition, I have done in-company trainings for brands such as Orange and Adidas.
Writer
I collaborate writing articles for Helium 10 blog, Shopify, SEMRush, La Vanguardia, eCommerce-news.es, Marketing4ecommerce...
Partner
Helium 10, Jungle Scout, Avask, Sellzone, Helium 10 Seller Solutions Hub Partner
Social
LinkedIn, Twitter, Wikipedia, Youtube, Quora, ISNI 0000000513224289, About Jordi Ordonez