Are you the owner of this tool? Submit your modifications here
Sellics is one of the best all in one Amazon Seller tools available nowadays and it has a Vendor version, which is something quite difficult to find in the Amazon tools world outnumbering in features softwares like Helium 10.
Sellics 90% discount for first month
Get a 90% discount of the first month of a monthly subscription on the Seller edition using code: JORDIOB90
Sellics 10% lifetime discount
Get a 10% discount of an annual contract on the Seller edition using code: JORDIOB10
Sellics features
Sellics features 7 tools for sellers:
Profit measurement tool
Specially designed to keep tracking of your global profit and profit per product
Keyword research tool
Which gives partial data, not the total amount of searches but a 4/4 index and no info about stationery
Amazon ppc optimizer
To improve your ad texts and keywords
Organic ranking improvement tool
Which shows improvements on keywords, titles, descriptions and bullet points
Review management tool
To have a global picture of your total reviews, it's average and detailed view of every feedback given to your products
Inventory control tool
To monitor your stock and prevent stock break
Product research tool
Similar to Junglescout but with few products (10.000 instead of 1 million)
Every tool works for all Amazon markets.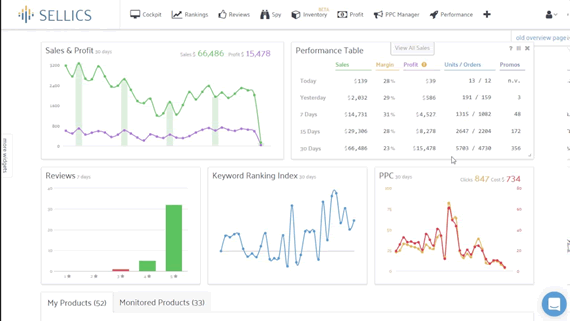 Pricing
Starting at 67$ a month for 1k to 60k revenue accounts to 317$ a month for 1.2M$ revenue
Sellics vs Helium 10 comparison
Trial
14 day free trial. Credit card needed, but expires automatically.
Sellics review
Something I especially like about Sellics is that, although it has many different features, the interface is relatively simple to use and the learning curve is not very demanding. Obviously you can complicate it as much as you want, there are plenty of options, but with handling the basics you will already be making an important leap in quality.
Something that I specially quite like about Sellics is that, even it does have a lot of different functionalities, the usage interface is relatively easier to use and the learning curve do not require that much of a demand.
Evidently you can make things as hard as you want, there are a lots of options, but if you manage the basics you will be doing a big quality step forward.
It's a great tool, specially considering that it's pricing starts at 67€ but, beware, because that is the price if your anual revenue is under 60k. Prices rise until 317$ a month if your revenue is 1.2M$ or more so it can become quite expensive.
But, if you are not looking for lots of features, the seven contained on Sellics may suit you:
Keyword Research
Ideal to extract the most relevant search terms even though it also allows you to search as it is in order to make an inverted search (reverse ASIN search). The tool is called Sonar Tool and does work wonders.
Product prospect tool
It is like JungleScout which is something that I would talk forward on another post, but it does pay off to any seller interested in exploring new niches (specially if you are going to rock the FBA).
Stock Control
With a really visual dashboard that you can check quickly and with just one glance at it.
Monitor and better your rankings
Analysing your listings and giving specific tips for bettering. The evolution graphics are really useful.
Monitor the competitors
On Amazon, knowing what the others are doing is really important, specially when you are using pricing strategies. Keep and eye on them.
Optimizer for your Amazon ads campaigns
The native tool is, to say at least, a little bit too short in functionalities (more or less as a stone of five pounds). The coolest part about Sellics is that, apart from controlling your campaigns' performance, it allows you to create automatized rules linked to the performance of the keywords, isn't it cool?
A tool to manage reviews
You better keep an eye and act quickly on them before something sour happens. The reviews, my dear friend, are on the determined ranking factors on SEO for Amazon.
Tracking the selling benefits
Just with a glance you can see the gross profit, costs and net profits. A good way to not being a fool without knowing.
Video review
Our score
Alternatives to Sellics