Many active Amazon users are often faced with the dilemma of wanting to invest their money and not knowing what to invest in, not because there are no options, the truth is that there are many opportunities, but not all of them are profitable or fruitful. Some entrepreneurs have had the surprise of their lives when they notice that the items they have chosen to sell do not have much commercial movement. In this post, we will analyze how we can choose a good product to sell on the global Amazon platform. It makes sense to look at the following factors before making a decision:
Items with slightly cheaper prices tend to sell more than expensive ones.
Although many people prefer expensive products, it may be more difficult for you to get started with them with the first investment and you may have to wait quite a while before you can see a profit.
A considerable number of people associate cheap products with poor quality products.
If you choose something too specific to sell on your online store it may not connect with a lot of the audience that needs it. And if you choose something too popular and widely used you will have a lot of competition. The products with the most sales output have to be somewhere between the cheapest and the most expensive, for example, between about $20 and $50.
Join our newsletter and get 18 discounts
Join now!
Sell items that are neither too big nor too heavy
We all know that the heavier the item we just sold on Amazon, the more it will cost us to ship it to the owner. Of course, the size of the item must also be taken into account. The larger the item is, its position in the price list will rise and this can decrease your revenue. Small, lightweight items, on the other hand, help make Amazon's shipping budgets and logistics rates more affordable.
One more point to consider in this regard is that if the package is too fragile, it may be damaged or cracked during shipping. This can also be a potential risk with heavy items or very delicate pieces inside the package, such as glassware, ceramics, or even a mobile device. Try to choose something sturdier and more durable.
Anyway, if you are looking for tools to find successful products, you can check:
Join our newsletter and get 18 discounts
Join now!
How to make the product sell in large quantities
The first thing you should do is familiarize yourself with the item. The more you know about the product, the easier it will be for you to make descriptions of the item you are marketing. You will be able to highlight the strongest features and how they can be combined with other items and thus increase your sales. If your review is attractive and solid you will be able to convince your potential customers to buy it.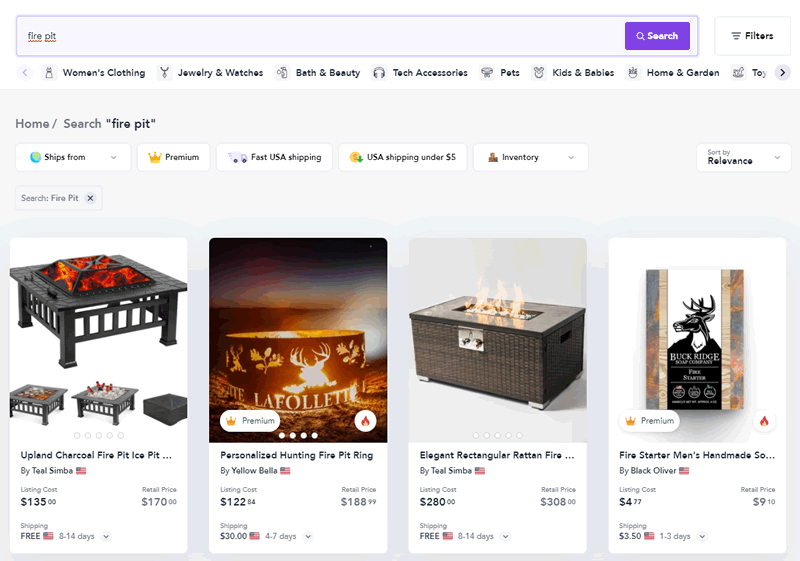 Use keywords with more popular usage for sales. If you come across a product whose keywords are widely used, don't overthink it and add it to the list. Generally, using 2 to 4 keywords is ideal for attracting more customers.  We may have to lower our expectations a bit if the product we are selling is of a lower category and remember that you may not connect with much clientele if the keywords are too abundant and full of popularity.
A well-ranked product means that it has a higher number of sales, while the LQS (Listing Quality Score) is used to describe the duration of item sales, and the profitability of keywords among other aspects. Set yourself the goal of achieving an LQS of no less than 70 and finding a product with a low rank, as, in Amazon terms, it will represent a higher score.
Pay attention to details
Reviews are an indispensable part of selling any product. But remember to be careful when choosing a product that has a lot of reviews and comments about it, because this means you will have to face a lot of competition. Here's a golden tip: If you choose products that have few reviews, you are more likely to accumulate more positive reviews which can lead you to the top of sales.
Try to keep the item margin at 25% or maybe less. First of all, you have to calculate how much profit you are going to get for each item and what will be the corresponding figure for the investment and its return. It may seem like a lot of mathematical work, but you have tools that can help you with the following:
Cost of the selected product
Item size and weight
Monthly storage fees
Fees derived from packaging
Estimated sales for each month
ROI
As ironic as it may seem, you may end up with one of the highest-priced, lowest-selling products that bring you the most profit. Make a frequent evaluation of the margins on each item. After you have gone through this whole procedure, try to set a fair price to launch the product on the air.
More posts
I work as an independent eCommerce and Amazon consultant.
Clients
Estrella Damm, Intersport, Bella Aurora, Lladró, Textura Interiors, Nice Things Palomas, Castañer, Due-Home and many other clients.
Lecturer & Teacher
I teach and have been a speaker at: Meet Magento, Prestashop, Prestashop Day, SEMRush, Cambra de Comerç Barcelona, ​​ClinicSEO, Ecommbeers, Ecommbrunch, Ecommercetour.com, Ecommfest, EOI, ESIC-ICEMD, Foxize, Generalitat de Catalunya, Inesdi, Quondos and The Valley. In addition, I have done in-company trainings for brands such as Orange and Adidas.
Writer
I collaborate writing articles for Helium 10 blog, Shopify, SEMRush, La Vanguardia, eCommerce-news.es, Marketing4ecommerce...
Partner
Helium 10, Jungle Scout, Avask, Sellzone, Helium 10 Seller Solutions Hub Partner
Social
LinkedIn, Twitter, Wikipedia, Youtube, Quora, ISNI 0000000513224289, About Jordi Ordonez