This should be a topic of special interest to those who have decided to become an expert entrepreneurs in online sales. There are countless experiences of people who have made a considerable income of money by setting up an online store and marketing products. Currently, there is a business model that has gained more and more popularity: Dropshipping.
What does Dropshipping mean? Dropshipping is a term used to define the process of selling without having to ship goods or keep track of inventory. As you may know, you can do dropshipping either on Amazon or using your online store. If you decide to do it with your commercial store you will notice that it is quite easy to do Dropshipping.
How would you execute this procedure from your store? By listing your products without the need to carry a physical inventory. When you receive an order you only have to contact your supplier and he will send the items to the customer. Although in this case, it seems that it is not complicated at all, Dropshipping on Amazon covers much more. If you are a seller on the platform and you are interested in this modality, then there are some things you should know.
You may wanna check our Best Dropshipping Suppliers for Amazon Sellers post
How does Dropshipping on Amazon work?
Amazon is currently one of the largest platforms in the world dedicated to e-commerce that reaches sales figures that exceed 200 billion dollars. To start selling on this site you will need to be approved for an Amazon seller account. After that happens, you can determine the business model you want and if you want to do Dropshipping.
Within Amazon, you can either do Amazon Dropshipping or let a third party handle the orders, as long as you meet some requirements. If you want to know what specifically are the regulations to be able to carry out this business model pay attention to the details of the following list:
You must be the registered seller of your products
You must be identified on all delivery notes as the seller of your products
It is important that before sending the order you remove any invoices, delivery notes, packaging, and information that may identify an external sender
You must demonstrate a sense of responsibility when processing consumer returns
You will be required to comply with the terms of your contract as a seller and with Amazon's policies.
Dropshipping is not allowed on the platform if it is derived from buying from an online retailer and having them ship to customers. It is also prohibited to ship orders that contain seller and contact information other than your own. Failure to comply with these requirements will earn you a penalty that may cause your Amazon merchant privileges to be suspended.

Dropshipping via Amazon FBA
To dropshipping on Amazon, you will need to drop ship using Amazon's site managed by Amazon (FBA) program. This way the platform will collect, package and ship the orders for you. It will provide you with useful buyer tracking information and handle customer service including returns.
By becoming an Amazon Logistics seller your product listing will now be marked "Sold by [name] and managed by Amazon". Making use of this method has its benefits, you will have the advantage of potentially being eligible to offer customers Prime shipping and increase your chances of winning the Buy Box.
Advantages and disadvantages of Dropshipping on Amazon
Some people who move at the pace of virtual commerce have concluded that Dropshipping is the best for their business. Since they don't need a warehouse, buying and selling are more convenient for them and overhead is reduced. If we talk about the advantages of Dropshipping on Amazon we can mention the following:
Amazon has millions of active users, which makes its name a recognizable global brand, therefore, if you use the platform you will quickly connect with customers.
You can use Amazon ads to increase your sales and generate buyer traffic.
By optimizing your listings you can benefit from organic traffic.
You won't have to worry about maintaining an inventory as you will send it to the platform's warehouses
You will only have to take care of your listings and fees, customer service and shipping will be taken care of by Amazon.
Still, we must take a balanced view and recognize that certain problems can also arise that can reduce profit margins. That is why we should also be aware of the possible obstacles faced by sellers who do Dropshipping on Amazon. Among the disadvantages we can highlight the following:
Since Amazon's policy states that "buying products from an online retailer and having them ship direct" is prohibited, this hinders some people from creating a profitable Dropshipping business in the marketplace.
Most of the profits derived from the sale of a product belong to the supplier, and even after separating the fees from the seller, little profit is realized.
Since Amazon customers are characterized by high standards for shopping, if they are dissatisfied with their order or have other problems, they may cause your account to be suspended.
You may conclude when looking closely at these pros and cons that shipping directly from your commerce store may be practical.
However, you should also consider that paying third-party fees to do Dropshipping on Amazon will allow you to benefit from large amounts of marketing and traffic. Remember that to make enough money using this method you must make use of smart strategies and keep your products competitively priced.
Dropshipping via Amazon FBM
If you use your own logistics channel, you can still dropship on Amazon but, remember, you must meet every important metric so your seller performance works like a charm:
Pre-fulfillment Cancel Rate
Order defect rate (ODR)
Late shipment rate (LSR)
Days Out of Stock (DOoS)
…
So, if you don't want headaches on your hands, better use Fulfillment By Amazon
Dropshipping using Multi Channel Fulfillment
Amazon Multi Channel Fulfillment or MCF is one of the most underrated Amazon Logistic Services. Basically, you can fulfill any external order using Amazon Logistics. Great, isn't it?
Well, not so fast. Of course there are NOPEs on MCF and 2 big ones to be more specific:
Walmart won't allow their sellers to fulfill their orders using MCF
eBay won't as well
That being said, you can use Multi Channel Fulfillment for your dropshipping strategies if your dropshipping provider is using it as well.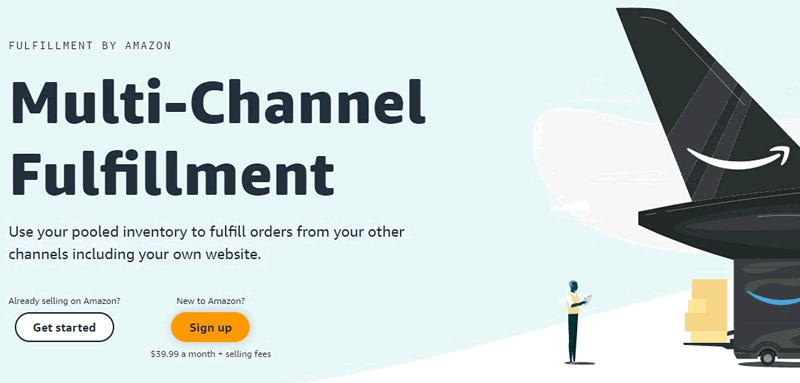 Dropshipping via Shopify + Oberlo + FBA
Ever used Shopify + Oberlo for dropshipping? Man, you should. It works like a charm.
What I usually do? Scalate dropshipping to stock shipping. Launch online stores using Shopify and use Oberlo to connect to dropshippers on Alibaba / Aliexpress. Send traffic using Reddit, Facebook, Instagram or TikTok.
Any of your products stands out? It's time to stock and get higher margins. I stock the product using Amazon FBA and still use dropshipping for the rest of the products. Easy peasy.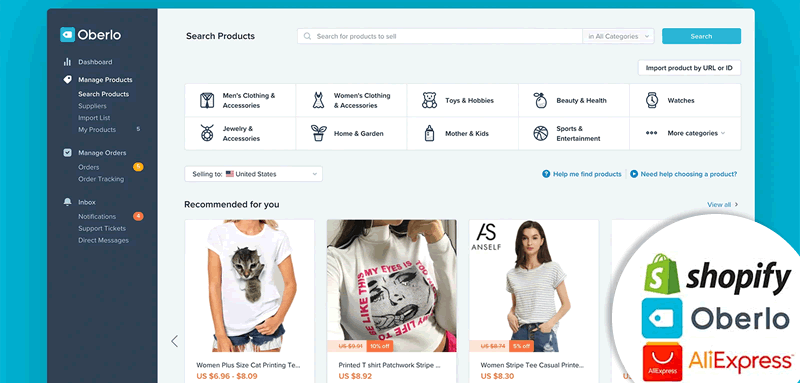 Other options
Reselling or Flipping on Amazon
Buying products to resell on Amazon is a classic. It's not dropshipping "per se" but, sometimes, you don't even need to touch the products. Some sellers buy online on Amazon, get the products, stick the FBA labels on them and send them back to Amazon. Yes, as easy as that.
You can resell or flip offline too. There are lots of physical stores to buy products and resell them on Amazon.
Arbitrage on Amazon
You can use lots of tools to arbitrage and find great products: buy them offline and sell them online on Amazon. Retail Arbitrage apps such as: Sourcemogul, Scanlister or Scoutify can help you find great profitable products.
Amazon Online Arbitrage
Same as classical arbitrage, but buying on Amazon or on other websites / marketplaces. As we discussed on the reselling chapter, get the products, stick the FBA label and send them back to Amazon. You can find great online offers using CamelCamelCamel or Keepa.
More posts
I work as an independent eCommerce and Amazon consultant.
Clients
Estrella Damm, Intersport, Bella Aurora, Lladró, Textura Interiors, Nice Things Palomas, Castañer, Due-Home and many other clients.
Lecturer & Teacher
I teach and have been a speaker at: Meet Magento, Prestashop, Prestashop Day, SEMRush, Cambra de Comerç Barcelona, ​​ClinicSEO, Ecommbeers, Ecommbrunch, Ecommercetour.com, Ecommfest, EOI, ESIC-ICEMD, Foxize, Generalitat de Catalunya, Inesdi, Quondos and The Valley. In addition, I have done in-company trainings for brands such as Orange and Adidas.
Writer
I collaborate writing articles for Helium 10 blog, Shopify, SEMRush, La Vanguardia, eCommerce-news.es, Marketing4ecommerce...
Partner
Helium 10, Jungle Scout, Avask, Sellzone, Helium 10 Seller Solutions Hub Partner
Social
LinkedIn, Twitter, Wikipedia, Youtube, Quora, ISNI 0000000513224289, About Jordi Ordonez